Book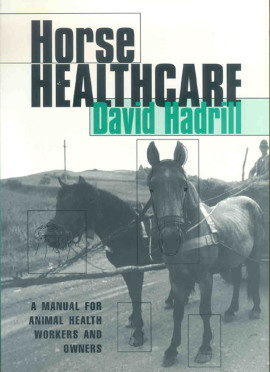 Horse Healthcare
A manual for animal health workers and owners
Published: 2002
Pages: 256

eBook: 9781780443515
Paperback: 9781853394867
This manual is designed for those who care for working horses but who may have little or no access to professional veterinary help. By guiding readers to the appropriate action to take when caring for a sick animal, this book will help alleviate the suffering of horses, donkeys and mules and thereby minimize the lost livelihood opportunities that can result. Horse Healthcare is designed to be accessible to both the owners of working equids themselves and the people who can help them out. Simple language is used and the text is clearly laid out with illustrations throughout. This makes the book useful to people who cannot understand standard texts on horse healthcare. The book is not intended to replace the role of the veterinary profession where an adequate animal healthcare service exists. In poorer countries, however, in situations where horse owners have no alternative but to treat their own sick animals, this manual gives guidance on how to do this properly and provides advice on how to prevent many common illnesses of equids. Published in association with the Brooke Hospital for Animals.
Introduction

1 How to tie, restrain and transport horses and donkeys

2 How to check signs of a horse or donkey's health

3 How to give medicines

4 Normal feet and legs and shoeing

5 Lameness

6 How to prevent wounds and injuries

7 How to treat wounds

8 Lumps under the skin

9 Diseases and parasites of the skin

10 Diseases affecting breathing

11 Other important infections

12 Colic, pain in the belly

13 Diarrhoea, worms and other parasites living inside the body

14 Thin animals, liver disease and diseases causing urine problems

15 Birth and care of foals

16 Eye problems

17 Poisoning

18 Teeth and how to tell the age

19 Heat stress

20 How to shoot a horse

Medicines

Index
David Hadrill David Hadrill is a veterinarian with over twenty years professional experience. He has lived and worked in India, the Caribbean, Somalia and Mongolia and has worked in many other developing countries. David now works as a consultant, specializing in community animal healthcare, training, project monitoring and evaluation.
Maximum permissible load for Kiso horses trotting over a short, straight course
Matsuura, Akihiro
Inoue, Sota
Irimajiri, Mami
Hodate, Koichi
Animal Science Journal, Vol. 89 (2018), Iss. 1 P.232
https://doi.org/10.1111/asj.12893
[Citations: 2]
Review on Practical Guidance of Veterinary Clinical Diagnostic Approach
Abdisa, T
International Journal of Veterinary Science and Research, Vol. 3 (2017), Iss. 1 P.030
https://doi.org/10.17352/ijvsr.000020
[Citations: 4]
Method for estimating maximum permissible load weight for Japanese native horses using accelerometer-based gait analysis
MATSUURA, Akihiro
IRIMAJIRI, Mami
MATSUZAKI, Kunihiro
HIRAGURI, Yuko
NAKANOWATARI, Toshihiko
YAMAZAKI, Atusi
HODATE, Koichi
Animal Science Journal, Vol. 84 (2013), Iss. 1 P.75
https://doi.org/10.1111/j.1740-0929.2012.01041.x
[Citations: 21]
Equine histoplasmosis: Treatment trial in cart horses in Central Ethiopia
Hadush, Birhanu
Ameni, Gobena
Medhin, Girmay
Tropical Animal Health and Production, Vol. 40 (2008), Iss. 6 P.407
https://doi.org/10.1007/s11250-007-9099-9
[Citations: 8]