Book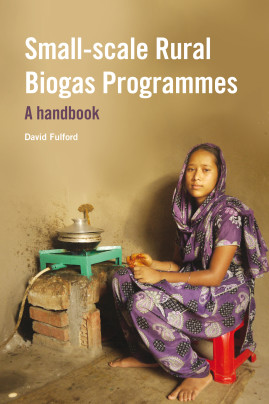 Small-scale Rural Biogas Programmes
A handbook
Published: 2015
Pages: 272

eBook: 9781780448497
Paperback: 9781853398506
Hardback: 9781853398490
Renewable energy is becoming crucially important, as concern over burning fossil fuels is increasing and the price of oil continues to rise. Biogas technology has undergone great developments since the first designs in the 1970s. Large national projects are working very effectively in countries such as Nepal, India and China, where hundreds of thousands of biogas plants have been installed; and Europe has a fast-growing interest in biogas technology. This book focuses on biogas extension programmes in these countries, and demonstrates the applicability of the technology elsewhere. It provides a comprehensive overview of the existing knowledge covering: the history of biogas programmes, the technology behind them, the value of biogas effluent as compost, details of the main domestic biogas plant designs, how biogas extension programmes work, and how they could be replicated. It includes detailed diagrams and appendices on the design of biogas plants.This is essential reading for those running biogas plants, as well as students of renewable energy and engineering.
Acknowledgements

Notation

1 Overview of Biogas Extension

2 Biogas History in Developing Countries

3 Aspects of a Biogas Programme

4 How Biogas works

5 Biogas Effluent as Compost

6 Main Domestic Biogas Plant Designs

7 Plastic Biogas Plant Designs

8 Ancillary Equipment

9 Using Biogas Plants

10 Essentials aspects of a biogas programme

11 Running a biogas programme

Appendix I Chemistry of Simple Digestion

Appendix II Biogas design details

Appendix III Building masonry plants
David Fulford
David J. Fulford is a founding trustee of SKG Sangha, with nearly 40 years of experience of working as an expert in the biogas industry. He was part of a team that started the national biogas programme in Nepal, and led evaluations of the programmes that succeeded it.
Green-house gas mitigation capacity of a small scale rural biogas plant calculations for Bangladesh through a general life cycle assessment
Rahman, Khondokar M
Melville, Lynsey
Fulford, David
Huq, SM Imamul
Waste Management & Research: The Journal for a Sustainable Circular Economy, Vol. 35 (2017), Iss. 10 P.1023
https://doi.org/10.1177/0734242X17721341
[Citations: 16]
Economic review of different designs of biogas plants at household level in Pakistan
Yasar, Abdullah
Nazir, Saba
Rasheed, Rizwan
Tabinda, Amtul Bari
Nazar, Masooma
Renewable and Sustainable Energy Reviews, Vol. 74 (2017), Iss. P.221
https://doi.org/10.1016/j.rser.2017.01.128
[Citations: 29]