Book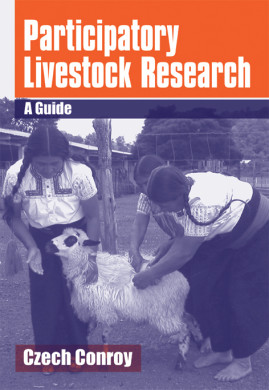 Participatory Livestock Research
A guide
Published: 2005
Pages: 320

eBook: 9781780440316
Paperback: 9781853395772
This book is the first to offer an introduction to participatory research for livestock development. Despite the attention paid to participatory research methodologies in other areas of agricultural development, participatory livestock work has been relatively neglected despite the evident relevance of and demand for such approaches. This book will bring livestock researchers and practitioners up to date with the latest and best practice in participatory research.
Participatory Livestock Research will help researchers and practitioners to overcome the potential difficulties associated with participatory livestock research. The book shows how a participatory approach to technology development can be successful. It also shows how to undertake needs assessment using participatory approaches, and how to avoid the problems associated with on-farm livestock experiments. Participatory Livestock Research is essential reading for all those involved in livestock research and will be also be of interest to workers and researchers interested in wider agricultural development issues in universities, national agricultural research systems and NGOs, and extension workers and practitioners in agricultural service agencies.
Prelims (Contents, List of Figures, List of Tables, List of Boxes, Acknowledgements, List of Acronyms)

1. Introduction: Why livestock is important to resource-poor people

PART I - PARTICIPATORY SITUATION ANALYSIS

2. General aspects of participatory situation analysis

3. Getting an overview of livestock-keeping; Feeding systems and resources

4. Animal health; Analysis of constraints, problems and opportunities

PART II - PARTICIPATORY TECHNOLOGY DEVELOPMENT

5. When to do participatory trials

6. Getting started; Designing trials and experiments

7. Monitoring and evaluation of experiments

8. Achieving wider impact

PART III - CASE STUDIES

9. Case study A: Learning about the control of Newcastle disease with village chicken farmers in Mozambique

10. Case study B: Participatory development of mange treatment technology in Kenya

11. Case study C: Participatory validation of medicinal plants for livestock diseases of pastoralists in Kenya

12. Case study D: Improving the efficacy of concentrate usage by smallholder dairy farmers in Kenya

13. Case study E: Tree pods as a supplement to improve the productivity of female goats in India

14. Case study F: Women, livestock and innovation: campesino experimentation in Mexico

15. Case study G: Adoption and scaling up – experiences of the Forages for Smallholders Project in South-east Asia

16. Case study H: Development of herbaceous forage legume technologies in central Kenya

17. Case study I: Development of the Kebkabiya donkey plough in Western Sudan

18. Case study J: Tzotzil shepherdesses and Chiapas wool sheep, Mexico

PART IV - CONCLUSIONS

19. Maximizing the contribution of participatory livestock research

Back Matter (Appendix: Internet-based livestock and development information sources, List of contributors, References, Index)
Czech Conroy
Czech Conroy is Reader in Rural Livelihoods at the Natural Resources Institute, University of Greenwich. He has worked in various countries in Asia and Africa, and has done livestock-related work in India, Indonesia and Oman.
Economic Analysis of Animal Genetic Resources and the Use of Rural Appraisal Methods: Lessons from Southeast Mexico
Drucker, Adam G.
Anderson, Simon
International Journal of Agricultural Sustainability, Vol. 2 (2004), Iss. 2 P.77
https://doi.org/10.1080/14735903.2004.9684569
[Citations: 22]