Book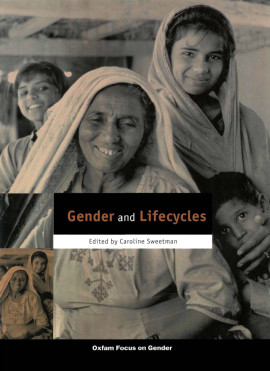 Gender and Lifecycles
Published: 2000
Pages: 80

eBook: 9780855987282
Paperback: 9780855984502
This book links gender issues to the life-courses of women and men. Gender-based discrimination is experienced differently according to age, generation, and status in the family. In particular, female children and elderly women perform an enormous amount of the world's work. endure appalling abuse of the human rights, and receive disproportionately few benefits from development. Writers here call for development policy and practice to recognise this vast contribution, and enforce the rights of women of all ages to an equal share of development outcomes. Other topics included here are the use of life-histories in understanding social and economic change; the economic survival of older people and children in an era of AIDS; the vulnerability of older men to gender-based abuse; girl-trafficking and AIDS; educating adolescent girls and boys to eradicate gender inequality; and the role of employment in changing young women's status in society. Countries featured include Bangladesh, Mexico, Jordan, Tanzania, and Nepal. Authors include Maribel Blasco and Ann Varley, Sabina Rashid, and Sylvia Beales.
* Editorial

Caroline Sweetman

* Why we should invest in older women and men: the experience of HelpAge International

Sylvia Beales

* 'At my age I should be sitting under that tree': the impact of AIDS on Tanzanian lakeshore communities

judith Appleton

* Providing sex education to adolescents in rural Bangladesh: experiences from BRAC

Sabina Faiz Rashid

* Using life histories to explore change: women's urban struggles in Cape Town, South Africa

Rachel Slater

* Intact or in tatters? Family care of older women and men in urban Mexico

Ann Varley and Maribel blasco

* Transitions and Boundaries: research into the impact of paid work on young women's lives in Jordan

Mary Kawar

* Community research on older women in the Dominican Republic

Jacquie Cheetham and Wendy Alba

* Girl-trafficking, HIV/AIDS, and the position of women in Nepal

Pratima Poudel and Jenny Carryer

* Gender, age and exclusion: a challenge to community organisations in Lima, Peru

Fiona C Clark and Nina Laurie

* Resources

* Publications

* Organisations

* Websites

* Videos
Caroline Sweetman was previously Editor of the international journal Gender & Development.