Book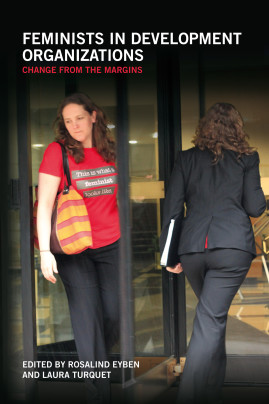 Feminists in Development Organizations
Change from the margins
Published: 2013
Pages: 244

eBook: 9781780448046
Paperback: 9781853398056
Hardback: 9781853398049
Feminists in Development Organizations arises from a collaborative project of feminists working inside the head offices of multilateral organizations, government aid agencies and international NGOs.The personal stories in this book show that these feminists are 'tempered radicals' positioned on the border of the development agencies that employ them. It is a place where they are neither fully one thing nor another: neither fully paid-up, pen-pushing bureaucrats, nor full-blown feminist activists on the barricades. Nevertheless, feminist bureaucrats see their work as urgent, essential and a necessary contribution to global efforts to achieve women's rights. This book shows how feminists can build effective strategies to influence development organizations to foster greater understanding and forge more effective alliances for social change. This book is aimed at staff of development organizations and students and researchers concerned with the politics of gender mainstreaming.
Prelims (Preface, Acronyms, Abbreviations)

1 Introduction: Feminist bureaucrats: inside–outside perspectives

Rosalind Eyben and Laura Turquet

2 Gender mainstreaming, organizational change, and the politics of influencing

Rosalind Eyben

3 'A femocrat just doing my job': working within the state to advance women's empowerment in Ghana

Takyiwaa Manuh, Nana Akua Anyidoho, and Francesca Pobee-Hayford

4 Feminist identities

Rosalind Eyben

5 'It's just a text – who cares?' Construction of texts in the context of EU policies

Brigitte Holzner

6 'It's fundamentally political': renovating the master's house

Patti O'Neill and Rosalind Eyben

7 Who is the better feminist? Negotiating the middle ground

Laura Turquet

8 Finding our organizational way

Rosalind Eyben

9 Values and systems: gender equality work in different organizational settings

Ines Smyth

10 Re-gendering the United Nations: old challenges and new opportunities

Joanne Sandler

11 Intimate knowledge of the material at hand

Rosalind Eyben

12 Feminist activism in development bureaucracies: shifting strategies and unpredictable results

Aruna Rao

13 Conclusion: the politics of marginality

Rosalind Eyben and Laura Turquet
Rosalind Eyben Rosalind Eyben is a Emeritus Fellow at the Institute of Development Studies, Sussex, studying power and relations in international aid.
Laura Turquet Laura Turquet currently works in the Research and Data team at UN Women and has worked on gender equality as an advocate and researcher for the past decade.