Book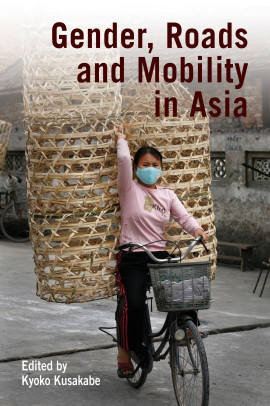 Gender, Roads, and Mobility in Asia
Published: 2012
Pages: 240

eBook: 9781780440507
Paperback: 9781853397349
Poor roads and transport infrastructure are key factors in the marginalization of women and other disempowered groups, but there is little understanding of the many ways in which a lack of mobility affects people's lives. In South-east Asia, huge strides are being made in highway development and regional economic integration. The complex interplay of factors makes the connections discovered both interesting and challenging for study. Do roads necessarily bring economic opportunities and prosperity? How does the possible change in mobility transform the lives of women and marginalized groups? How does the differential impact of these changes on people depend on geographical, social, and historical factors and people's own capacities to make optimum use of the new resource? Gender, Roads, and Mobility in Asia brings together stories from different points of transformation and what emerges is a nuanced picture of how people's own positions and capabilities – gender, age, ethnicity, literacy, and education – influence the impact of the infrastructure development on their lives.This book should be read by policy makers, transportation planners, development practitioners and researchers.
Prelims (Acknowledgements)

1. Introduction: Gender, roads, and mobility in Asia

Kyoko Kusakabe

PART ONE: Connecting Asia: Explosive growth in infrastructure

2. International road transport in GMS

Madan B. Regmi and Shinya Hanaoka

3. Influence of transportation infrastructure development on freight traffic flow patterns in GMS

Takafumi Iwata, Hironori Kato and Ryuichi Shibasaki

4. Rural–urban–global linkages, economic integration, and development

H. Detlef Kammeier

5. The influence of highways on economic development of medium- and small-sized cities in China

Shinya Hanaoka and Ba Tianxing

PART TWO: Gendered impact of transport development

6. Gender, mobility, and road construction in GMS

Kyoko Kusakabe

7. Gendered impacts of road infrastructure development along the Kunming–Bangkok highway

Wang Yunxian and Zhao Qun

8. Effects of infrastructure development on trade and gender relations: A study at Lao Bao border, Vietnam

Nguyen Thi Diem Hang, Nguyen Thi Phuong Hien, Trinh Thi Bich Thuy, Vu Thi Hoang Yen and Vo Thi Quynh Truc

9. Gender analysis of changes in livelihoods at the border: A case study of Houayxai, Lao PDR

Saykham Thammanosouth, Viengnam Douangphachanh and Lamphoun Khounphakdy

10. Impact of cross-border road construction on the livelihoods of women and men in Kyaing Tong– Tachilek, Myanmar

Win Myo Thu

11. Cross-border trading experiences before and after the construction of the second Lao–Thai Friendship Bridge

Nittana Southiseng and John Walsh

12. Negotiating the trade route at the border: A case study of women small-scale cross-border traders in Myitkyina, Myanmar

Khin Hnin Phyu

13. Gendered patterns of urban commuting with better connectivity in Jakarta megapolitan area

Sri Hartinin Rachmod, Ardi Adji and Dendi Handiyatmo

14. Gendered mobility of working couples: A case of Soi Sukhumvit 22

Wijitbusaba Ann Marome

PART THREE: Planning gendered interventions in road development

15. Role of transport infrastructure in changing gender relations in rural Sri Lanka

Upali Pannilage

16. Participatory road construction and poverty reduction in Nepal

Jun Hada

17. Road connectivity and its impact on women's poverty in Nepal

Bandana Sharma

18. Construction of village roads by villagers: Creating jobs forwomen and men in Sunamganj, Bangladesh

Sk. Md. Mohsin, Edward Mallorie and Michael A. Roy

19. Road improvement in Cambodia: Livelihood, education, health, and empowerment

John Pilgrim and Ngin Chanrith

20. Mobility and accessibility to health services in rural Nepal

Binjwala Shrestha

21. Conclusion: Studying gender relations in a mobile world

Kyoko Kusakabe

Back Matter (Index)
Kyoko Kusakabe Kyoko Kusakabe is Associate Professor, Gender and Development Studies, School of Environment, Resources and Development, Asian Institute of Technology, Thailand.
Digital urban network connectivity: Global and Chinese internet patterns
Tranos, Emmanouil
Kourtit, Karima
Nijkamp, Peter
Papers in Regional Science, Vol. 93 (2014), Iss. 2 P.409
https://doi.org/10.1111/pirs.12097
[Citations: 7]
Gendered mobilities in the making: moving from a pedestrian to vehicular mobility landscape in Shimshal, Pakistan
Cook, Nancy
Butz, David
Social & Cultural Geography, Vol. 19 (2018), Iss. 5 P.606
https://doi.org/10.1080/14649365.2017.1294702
[Citations: 14]
Women's mobility and 'transport-related social exclusion' in Bishkek
Turdalieva, Cholpon
Edling, Christopher
Mobilities, Vol. 13 (2018), Iss. 4 P.535
https://doi.org/10.1080/17450101.2017.1388348
[Citations: 7]
Mobile livelihoods among ethnic minorities in China: Insights from Yunnan
Wang, Yunxian
Kusakabe, Kyoko
Lund, Ragnhild
Panda, Smita Mishra
Zhao, Qun
Norsk Geografisk Tidsskrift - Norwegian Journal of Geography, Vol. 67 (2013), Iss. 4 P.187
https://doi.org/10.1080/00291951.2013.823238
[Citations: 6]
Resettlement in Lao PDR: mobility, resistance and gendered impacts
Kusakabe, Kyoko
Lund, Ragnhild
Mishra Panda, Smita
Wang, Yunxian
Vongphakdy, Sengkham
Gender, Place & Culture, Vol. 22 (2015), Iss. 8 P.1089
https://doi.org/10.1080/0966369X.2014.939149
[Citations: 4]