Book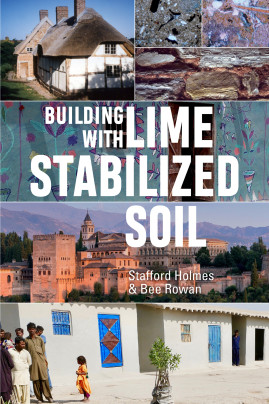 Building with Lime Stabilized Soil
Published: 2021
Pages: 280

eBook: 9781780447001
Paperback: 9781788530019
Hardback: 9781788530002
How best can we stimulate lasting recovery from floods, earthquakes, and other climate disasters, with limited resources and funds? How can we deliver housing and adequate shelter that will protect as many people as possible across the world from anticipated future floods or extreme weather?
Widely available limestone is a key component to achieving these goals.

When burned and combined with local clay-rich soil or pozzolans (locally available burnt brick dust or various types of ash) it can create low-cost, flood-resilient building components: foundations, wall blocks, renders, plasters, and floor and roof screeds that remain stable in wet conditions and under water.

Many communities are familiar with basic construction, and so, once equipped with the skills to work with these low-cost, locally available materials, they can lead their own recovery. Advice includes the selection, preparation and application of binders, aggregates and pozzolans and their mix ratios supported by detailed illustrations of practical field tests for a range of building elements.

As well as setting out methods for using soil and other local materials in the construction of new housing in rural communities affected by climate disaster, Building with Lime-Stabilized Soil also describes their use in repairs to historic buildings. Many old buildings, some standing for over 700 years, are testament to the durability of these materials. Stafford Holmes and Bee Rowan show with numerous detailed examples and instruction that the use of lime-stabilized soil is the most ecological, cost-saving, appropriate technology for a wide range of buildings across the world.
1. Lime-stabilized soil: an invaluable resource

2. Lime-stabilized soil as historic building fabric

3. Building limes and hydraulic set: a scientific overview

4. Field testing: Stage 1 - Materials

5. Field testing: Stage 2 - Lime stabilization of soils

6. Field testing: Stage 3 - Building elements

7. Lime stabilized soil in civil engineering

8. Testing and national standards

9. Appendices
'Finally a user-friendly guide to lime and earth in building, well illustrated for training purposes and detailed enough to cope with a wide range of situations. Bee and Stafford have been working with these materials for a long time and understand the needs of builders and designers as well as the practical issues which face anyone trying to build with local materials, to do local field testing and give practical solutions which can be widely applied. This is a book for trainers, practitioners, organizations, regulators and funders to understand the issues in choosing local building materials and skills, and moving away from environmentally damaging and expensive industrialized solutions.'
Rowland Keable, CEO, Earth Building UK and Ireland

'Architects take note, read and learn, and take these techniques out into your practice. Not just in the developing world – developed economies need this just as much if not more. It is the next big thing in reducing your carbon footprint (or more accurately it was something vernacular builders knew well, but we are only now recognizing its importance). What could be more compelling than using the earth and rocks dug out of the construction site to make into architecture – resulting in zero transport miles?'
Charles Parrack, Course Leader Professional Masters in Architectural Design, Oxford Brookes University

'This book extends our understanding of conservation; linking traditional building materials and methods from the past, with the creation of modern sustainable homes in response to the acute impacts of climate change. It offers inspiration and empowerment to both the vernacular building owner and international aid organizations.'
Nichola Tasker, Chair of the Society for the Protection of Ancient Buildings

'Building with lime has been used and forgotten in almost every continent around the world. After hundreds of years, many structures are still standing, from Iraq to the UK, notably in surviving Roman architecture and infra- structure. Whilst there is less historical evidence for lime stabilization of soil, this book gives compelling examples from an equally wide-ranging geographical spread. Lime stabilization of soil is a cheaper and more environ- mentally friendly alternative to many other construction methods, particu- larly the use of Portland cement, and can be far easier to integrate or reintegrate sustainably into building cultures. The unique and hydraulic properties of lime-stabilized soil often make it the most appropriate option, including for the strengthening and protection of buildings from slow onset or prolonged flood. Stafford Holmes and Bee Rowan offer a well-illustrated practical book, drawing upon extensive experience and sources. Their efforts build upon work by other natural building experts, including John Norton, Hugo Huben and Hubert Guillaud, celebrating also continuity with Practical Action over this environmentally sensitive approach to construction, an option for consider- ation in almost every building project.'
Tom Corsellis, Executive Director, Shelter Centre, Geneva

'I first encountered Stafford Holmes when I was working on alternative cements in ITDG in the late 1970s, and I am delighted to see that the approach we advocated at the time has been further developed both for historic buildings and for recent post flood and earthquake projects in Pakistan and Nepal. This book, based on more than 40 years of experience with the material, is bound to become the standard document on how to select, test and use lime- stabilized soil. It is comprehensive and well written and it has been appropri- ately illustrated.'
Robin Spence, Emeritus Professor of Architectural Engineering, Cambridge University; Director, Cambridge Architectural Research Ltd

'Sustainable small-scale and easily maintained reconstruction methods that can help rebuild disaster-affected communities are very welcome in the humanitarian context, all the more so within the context of the Sustainable Development Goals and the drive to greener, more climate-friendly solutions. This useful primer offers tried and tested techniques that can empower communities and increase their resilience and recovery capacities.'
Marianne Farrar-Hockley, European Commission, European Civil Protection and Humanitarian Aid Operations
Stafford Holmes
Stafford Holmes is an architect who specializes in the care and repair of historic buildings. He has written books and technical articles on building limes, describing their many uses and ecological benefits, including Building with Lime, with Michael Wingate, first published in 1997.
Bee Rowan is Director of Strawbuild, one of the United Kingdom and Europe's foremost training companies in sustainable construction techniques, committed to building community resilience and offering training courses for the humanitarian and post-disaster reconstruction and recovery sectors.