Book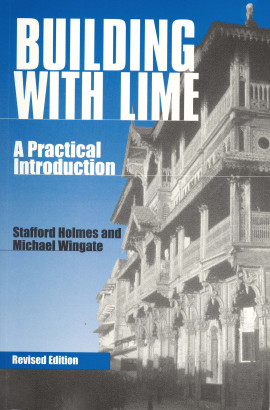 The most common raw material for making lime is limestone, which is one of the world's most abundant minerals, widely available in many countries. Lime has many other uses, but this book is specifically about its use in building and construction, for which it has a proven track record through several millennia. Despite this long and successful history, in recent times it has been largely neglected whilst ordinary Portland cement has dominated the market. Building with Lime seeks to rectify this situation. The book is a revised, updated and improved edition of the very successful one of the same title, by the same authors, published by the same organization in 1997.
This book is intended as a starting point for those considering lime as a building material, and as a general reference to the broad range of uses for lime in construction. It shows how to make the best use of different types of lime, whether extracted locally or transported from further afield. The book provides information that will assist manufacturers, policy-makers, investors, suppliers, and the builders and owners or users of the buildings themselves to understand the value of lime.
Prelims (Acknowledgements, Dedication, Foreword)

1. An approach to using lime

2. What lime is and how it is prepared

3. Tools and equipment

4. Limewashes

5. Lime mortars

6. Plain lime plastering for interiors

7. External renders and thrown finishes

8. Decorative plasterwork

9. Stabilization and other mixes incorporating lime

10. Substructure: floors, roads and lime concrete

11. Limestone recognition, testing and standards

12. Maintenance guidelines

Back Matter (References and bibliography, Glossary, Appendices 1-12, Index)
Stafford Holmes
Stafford Holmes is an architect who specializes in the care and repair of historic buildings. He has written books and technical articles on building limes, describing their many uses and ecological benefits, including Building with Lime, with Michael Wingate, first published in 1997.
Michael Wingate
Michael Wingate is a United Kingdom based construction professional
Mechanical activation of frozen lime putties
Michoinová, D
Nečas, R
IOP Conference Series: Materials Science and Engineering, Vol. 379 (2018), Iss. P.012009
https://doi.org/10.1088/1757-899X/379/1/012009
[Citations: 0]
The Source Materials for Lime Production in the Monte Pisano Area (NW Tuscany, Italy)
Lezzerini, Marco
Aquino, rea
Legnaioli, Stefano
Pagnotta, Stefano
Palleschi, Vincenzo
IOP Conference Series: Earth and Environmental Science, Vol. 609 (2020), Iss. P.012078
https://doi.org/10.1088/1755-1315/609/1/012078
[Citations: 0]
Chemical and mineralogical investigations of lime plasters of medieval structures of Hampi, India
Singh, Manager
Kumar, Selvam Vinodh
Sabale, Pandurang Digamber
International Journal of Architectural Heritage, Vol. 13 (2019), Iss. 5 P.725
https://doi.org/10.1080/15583058.2018.1469175
[Citations: 3]
Bond–Slip Mechanism of Rammed Earth–Timber Joints in Chinese Hakka Tulou Buildings
Luo, Yi
Zhong, Haopeng
Ding, Nan
Ni, Pengpeng
Xu, Yuye
Peng, Xingqian
Easa, Said M.
Journal of Structural Engineering, Vol. 147 (2021), Iss. 5
https://doi.org/10.1061/(ASCE)ST.1943-541X.0002986
[Citations: 4]
The stress cycling of hydraulic lime mortars
Ball, R. J.
El-Turki, A.
Allen, W. J.
Allen, G. C.
Proceedings of the Institution of Civil Engineers - Construction Materials, Vol. 160 (2007), Iss. 2 P.57
https://doi.org/10.1680/coma.2007.160.2.57
[Citations: 7]
Deformation of NHL3.5 and CL90/PC hybrid mortars
Ball, R. J.
El-Turki, A.
Allen, W. J.
Nicholson, J. A.
Allen, G. C.
Proceedings of the Institution of Civil Engineers - Construction Materials, Vol. 162 (2009), Iss. 1 P.29
https://doi.org/10.1680/coma.2009.162.1.29
[Citations: 7]
STABILIZATION OF WALLS WITH LIME-MORTAR CAPPING
Proudfoot, Trevor
Severson, Kent
Studies in Conservation, Vol. 55 (2010), Iss. sup2 P.201
https://doi.org/10.1179/sic.2010.55.Supplement-2.201
[Citations: 0]
Reconstructing Archaeological Sites
References
2018
https://doi.org/10.1002/9781119016427.refs
[Citations: 0]
Load-dependent deformation and shrinkage in hydraulic lime mortars
Ball, Richard James
Allen, Geoffrey Charles
International Journal of Sustainable Engineering, Vol. 3 (2010), Iss. 1 P.40
https://doi.org/10.1080/19397030903191219
[Citations: 6]
Neolithic Lime Plastered Floors in Drakaina Cave, Kephalonia Island, Western Greece: Evidence of the Significance of the Site
Karkanas, Panagiotis
Stratouli, Georgia
The Annual of the British School at Athens, Vol. 103 (2008), Iss. P.27
https://doi.org/10.1017/S006824540000006X
[Citations: 8]