Book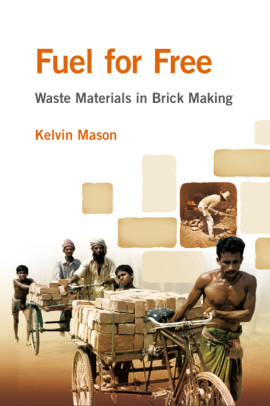 Fuel for Free?
Waste Materials in Brick Making
Published: 2007
Pages: 184

eBook: 9781780445038
Paperback: 9781853396250
This book covers the use of wastes in firing clay bricks via case studies in Zimbabwe, Sudan, Sri Lanka, and Peru. With respect to both livelihoods and the environment, energy efficiency in brickmaking is critical. Not only does increasing energy efficiency serve to reduce brickmakers' fuel costs and hence increase their income, it also reduces the emissions of carbon dioxide and other pollutants per brick produced. This book demonstrates that if energy efficiency is combined with appropriate fuel substitutions (co-firing), then the beneficial effect on both income and the environment can be significantly enhanced. The book addresses issues of energy use, the environmental impact of brickmaking, and the technologies of fuel substitution and co-firing via case-studies of the work of Practical Action. The Peru study investigates the use of coal-dust, coal-dust briquettes, waste oil, rice husks and sawdust. The Sudan and Zimbabwe studies look at using a variety of wastes, including cow-dung, bagasse and boiler waste. The book then explores the possible alternative futures for brickmakers and the need to mobilize political support for energy efficiency and fuel substitution.
Preface | List of figures | List of photographs | List of tables List of boxes | Abbreviations and units

1: Small-scale brickmaking around the world

2: The environmental impact of using wastes

3: Fuel choice and the potential of wastes

4: Trials with coal-dust, coal-dust briquettes, waste oil, rice husks and sawdust in Peru

5: The use of cow-dung, bagasse and a variety of other agricultural residues in Sudan

6: Trials with boiler waste in Zimbabwe

7: The view from Europe

8: The feasibility, sustainability and viability of using wastes

Conclusion: what's to be done?

Appendix | Photocopiable forms | Environmental impact of national projects | Energy monitoring form | References
Kelvin Mason
Kelvin Mason is a tutor on the MSc Architecture: Advanced Environmental and Energy Studies by distance learning at the Centre for Alternative Technology. Previously, he worked as a consultant engineer and manager on development projects in Africa, Latin America and Asia.