Book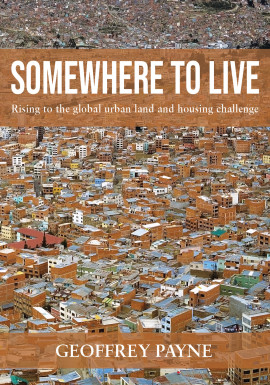 Somewhere to Live
Rising to the global urban land and housing challenge
Published: 2022
Pages: 318

eBook: 9781788531832
Paperback: 9781788531795
Hardback: 9781788530965
Despite millions of people being lifted out of poverty during recent decades, finding somewhere decent and affordable to live is proving increasingly difficult in urban areas around the world.

This is not by accident, but by design, since the forms of economic management that have held sway for four decades are intended to concentrate wealth and power in the hands of a small elite, excluding the vast majority from meeting their basic needs. They force countless vulnerable, yet enterprising groups to migrate in search of a better life, and also ignore the rich cultural traditions and practices that provide a sense of belonging and identity that is a key feature of all places we love to visit or live in.

Since the planet can no longer sustain unlimited economic growth, and humanity is facing an existential crisis, land and housing have become an expression of this crisis. However, the Covid pandemic has provided a wake-up call to encourage us to change the way we treat both the planet and each other, and many examples exist of innovative, demand-sensitive approaches that provide the basis, not just for meeting the need for land and housing, but for providing a better quality of life.

This book shows how to turn a crisis into an opportunity.
'Somewhere to Live is an exhaustive and optimistic introduction to the urban land and housing challenge faced by countries in the global North and South alike. It addresses the complex and integrated issues of urban economic and social development and cultural respect and conservation in the contemporary context of climate change and pathogenic pandemic, in great analytical detail. It is fully supported by illustrative case studies that draw on Geoffrey Payne's extensive worldwide research and policy advice to governments, non-governmental organisations and international development aid agencies. The book is essential reading for students of urban development and policy makers and urban planning and management professionals, universally.'
Patrick Wakely, Professor Emeritus of Urban Development, University of London, (former Director, Development Planning Unit DPU, University College London UCL)

'Geoffrey Payne has been a leading global expert on land and housing for many decades. This book pulls together an extraordinary amount of knowledge about local conditions, project initiatives, and policy dilemmas. The result is a major contribution to the global debate in this field. Payne shows that, despite the staggering number of people needing "somewhere to live", global accomplishments in providing shelter, in changing ideas, and finding a balance between efficiency and equity are considerable. Nonetheless, as a Swahili proverb reminds us, "Those who have arrived have a long way to go.'
Michael Cohen, Professor of International Affairs and Director of the Doctoral Program in Public and Urban Policy, The New School, USA
Geoffrey Payne
Geoffrey Payne is a housing and urban development consultant based in London. He is author of Making Common Ground: Public-private Partnerships in Land for Housing also published by Practical Action Publishing.