Book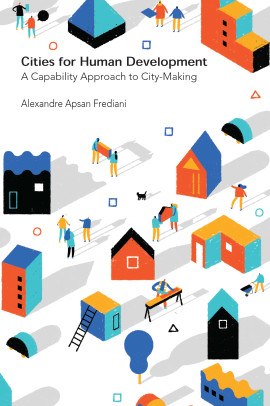 Cities for Human Development
A Capability Approach to City-Making
Published: 2021
Pages: 186

eBook: 9781788531504
Paperback: 9781788531474
Hardback: 9781788531436
For the last 30 years, the idea of 'cities as engines of growth' has played a key role in capturing the imagination of decision-makers and encouraging public and private investments into cities. However, at the same time, the world has experienced the urbanisation of poverty and inequality. Urban development and planning practice focused on the ideal of enhancing GDP has not been able to address conditions of marginalisation and deprivation in cities. In fact, they have contributed to deepen urban social and spatial segregation.

Drawing on the work of Amartya Sen and others from the field of human development and capability debate, this book aims to approach city-making from the lens of the capability approach. What if we understand cities not as engines of growth but of human development? What if we see cities not for what they are, but what they do to people and nature? Alexandre Frediani sets out a capability response that starts with condemning violations of human rights, recognising the collective agency of urban dwellers, and calling for public actions and interventions that address uneven distribution of opportunities and burdens, while promoting democratic processes to imagine and design the cities we value.
1. Towards cities as engines of human development

2. Justice, City-making and the Capability Approach

3. Drivers: Evictions and well-being of dwellers in Lagos waterfront informal settlements, Nigeria

4. Practices: Experiences and claims for participation in London's Euston area, United Kingdom

5. Aspirations: Re-imagining urban regeneration in Woodstock, Cape Town, South Africa

6. Abilities: Housing (un)freedoms in Nova Primavera estate, Salvador da Bahia, Brazil

7. Opportunities: Democratising urban governance through Neighbourhood Planning Associations in Kisumu, Kenya

8. Agency: Claiming rights through the occupation of vacant buildings in inner São Paulo, Brazil

9. Trajectories: Pursuing 'Buen Vivir' through participatory neighbourhood planning in Quito, Ecuador

10. Learning: Expanding capabilities through knowledge co-production about city-making in Freetown, Sierra Leone
'Cities for Human Development brings an important and much-needed new approach to understanding and acting on urban poverty. Change the lens through which you view it, change who you see and what they need, change your interaction with them…'
David Satterthwaite, International Institute for Environment and Development, Visiting Professor, University College London

'This book is a timely and erudite effort that places Frediani amongst the emerging urban scholars of note. Drawing on practical examples from cities across Latin America and Africa, Frediani artfully applies Amartya Sen's capability approach to city-making. A must read for urban scholars and practitioners alike.'
Dr Jaideep Gupte, Fellow of the Institute of Development Studies, UK

'What are cities for? Are they for making money and creating wealth? Or are they for freeing people to live well? Which goal is fundamental, and which is a mere means? Using the capability approach, Frediani argues that freedom to live well is fundamental. Using a wealth of case studies, he shows how to assess urban decision making in light of this goal. This is an exemplary pathfinding book for urban theorists, planners, and activists alike.'
Jay Drydyk, Professor of Philosophy, Carleton University; President, Human Development and Capability Association; Past President, International Development Ethics Association

'Why not focus on ways of letting the urban world flourish in all its multiple and complex modes of being? And through an understanding of the prevailing circumstances and collective activities that are standing their ground, why not envision new horizons and the project of an urban way of life enjoying greater justice and solidarity? This is the road Frediani invites us to take, founding his approach on the principle of human development as a theoretical and practical counterweight to a cruel economy and monolithic, exclusive and monetized urban politics. Moving between nine cities and three continents, following the trajectory of action research over more than a decade, the book reveals its lucid, robust structure as it walks the fine line between theory, interpretation of reality and the reaffirmation of social utopias. Read it with pleasure!'
Ana Fernandes, Professor at the Faculty of Architecture of the Federal University of Bahia (Faculdade de Arquitetura da Universidade Federal da Bahia, FAUFBA)
Dr Alexandre Apsan Frediani specialises on issues around human development in cities of the global South. Alexandre's work explores participatory approaches to planning and design of interventions in informal settlements in cities in Latin America and Sub-Saharan Africa.