Book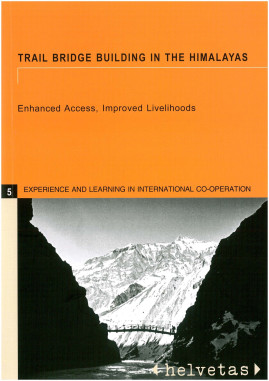 Trail Bridge Building in the Himalayas
Enhanced Access, Improved Livelihoods
Published: 2007
Pages: 72

eBook: 9781780441573
Paperback: 9781853396533
A co-publication with Helvetas in their Experience and Learning in International Cooperation series, this publication describes the rural infrastructure support work conducted by Swiss development agency Helvetas in Nepal and Bhutan where over 4000 trail bridges have been built in the last 40 years. The programme has come to be seen as a major success in transforming the lives of millions of Himalayan people who now have safe transport access to markets and services. The experience and learning derived from this programme is the basis of this book which considers both the technical aspects of construction and the social and economic context of community participation and funding.
Abbreviations and Acronyms

1. Nepal Chaper

2. Interlude

3. Bhutan Chapter

4. Future outlook

5. Evolution and Milestones

6. Impact Assessment

7. Learning

8. Looking Back

9. Looking Forward
Artha Tuladhar
Artha Tuladhar worked with Helvetas Nepal on the trail suspension bridge program and has worked with a variety of other development NGOs in Nepal.