Book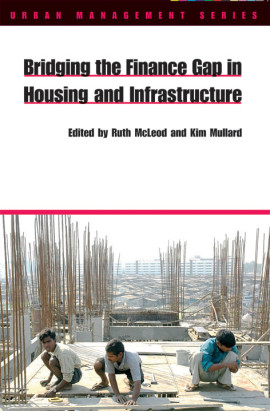 Bridging the Finance Gap in Housing and Infrastructure
Series: Urban Management Series
Published: 2006
Pages: 228

eBook: 9781780444604
Paperback: 9781853396397
Bridging the Finance Gap in Housing and Infrastructure concentrates on how groups of poor people – coalitions of the poor around the world have been able and been enabled to lead the process of transforming slums into vibrant and stable neighbourhoods. It showcases the strategies and the dedication, commitment and achievement of one northern NGO – Homeless International – as it has pioneered new approaches to analyzing and helping to arrange finance for community-led slum upgrading. This is a very encouraging story. It confirms that the homeless poor in the world's slums should never be dismissed as the helpless victims of urbanization.

Technically, this book is valuable for the explanation of how innovative financing packages can be arranged for slum upgrading programmes. But primarily, it is about human rights and how institutions and organizations respect and help people to realize their rights.
Prelims (Contents, The Urban Management Series, Acknowledgements, Preface, List of boxes, List of figures, List of photographs, List of tables, Acronyms and abbreviations, About the authors)

1. Introduction

Ruth McLeod, Kim Mullard

2. Homeless International's involvement in urban development finance

Kim Mullard

3. Building community foundations

Becky Telford

4. Taking risks

Ruth McLeod

5. A continuum of financial services

Ruth McLeod

6. Guarantees of success?

Malcolm Jack

7. The Community-Led Infrastructure Finance Facility

Ian Morris

8. 'This house believes that the private finance market will never fund major slum upgrading'

Ruth McLeod, Dave Hughes

9. Working with government

Kim Mullard

10. Reflections – Homing in on Homeless International

Malcolm Jack

Back matter (Glossary of technical terms, Notes, References, Index)
Ruth McLeod
Ruth McLeod has been Chief Executive of Homeless International since 1989. She has worked for more than 30 years on issues relating to urban poverty, promoting the development of innovative financing mechanisms that provide organizations of the urban poor with direct access to development capital for slum upgrading and infrastructure provision.
Kim Mullard
Kim Mullard is Homeless International's Policy Adviser and Deputy Chief Executive, and also co-ordinates ComHabitat, the Commonwealth network for human settlements issues. She is a past Co-ordinator of the UK Urban Poverty Group (a network of NGOs, academics, and consultants interested in urban poverty issues).
The City in Urban Poverty
Expanding the 'Room for Manoeuvre': Community-Led Finance in Mumbai, India
Levy, Caren
2015
https://doi.org/10.1057/9781137367433_8
[Citations: 3]
Sustainable urban housing policies in the era of post-covid climate change mitigation
Wakely, Patrick
(2022) P.1
https://doi.org/10.1080/19463138.2022.2055298
[Citations: 0]
Can people on low incomes access affordable housing loans in urban Africa and Asia? Examples of innovative housing finance models from Reall's global network
Jones, Andrew
Stead, Lisa
Environment and Urbanization, Vol. 32 (2020), Iss. 1 P.155
https://doi.org/10.1177/0956247819899557
[Citations: 4]
Climate Resilient Urban Areas
Climate Resilience in Urban Informal Settlements: Towards a Transformative Upgrading Agenda
French, Matthew
Trundle, Alexei
Korte, Inga
Koto, Camari
2021
https://doi.org/10.1007/978-3-030-57537-3_7
[Citations: 1]