Book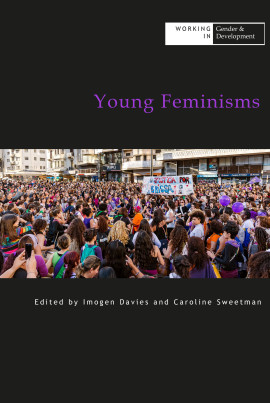 There are more young people today than ever before, and many countries in the global South have youth populations which make up well over half of the total. Against the backdrop of the #MeToo and #AidToo revelations, sexual abuse and harassment, and targeting and persecution by governments is a reality for many young activists campaigning on feminist issues. Young feminists are challenging international development policymakers and practitioners, national governments, and development donors of all kinds to recognise their right to shape development itself. This collection explores how young women's movements, along with the support they need, can offer a model of political, intersectional work to guide and re-politicise international development.
1. Introduction: development and young feminisms

2. Reclaim, resist, reframe: re-imagining feminist movements in the 2010s

3. Repoliticising women's rights in development: young African feminisms at the cutting edge

4. Young feminists' creative strategies to challenge the status quo: a view from FRIDA

5. In the land of wise old men: experiences of young women activists in Myanmar

6. Reading girls' participation in Girl Up as feminist: club members' activism in the UK, USA and Malawi

7. Young feminists working globally to end violence against women and girls: key challenges and ways forward

8. Reclaiming culture, resisting co-optation: young feminists confronting the rising right

9. A young feminist new order: an exploration of why young feminists organise the way they do

10. 'Paid work: the magic solution for young women to achieve empowerment? Evidence from the Empower Youth for Work project in Bangladesh

11. Empowering youth in rural, up-country Sri Lanka through gender equitable education and employment

12. Resources
'This fresh, inspiring collection comes to us at a time when the pressing global challenges we face require urgent, innovative and paradigm-shifting solutions that disrupt the status quo. Highlighting young feminist voices from across the globe is key to this endeavour, and to igniting change.'
Rebecca Fries, CEO, Value for Women

'This important book shines a spotlight on the strategies of resistance and resilience being pioneered by young feminist leaders. It is relevant for a wide audience – from activists looking to be inspired and learn from the experience of peers, to institutions and funders wanting to understand how to better support the inherently political work of the young feminists fighting for equality and rights today'.
Abigail Hunt, Research Fellow, Overseas Development Institute

Caroline Sweetman was previously Editor of the international journal Gender & Development.
Imogen Davies is Gender Lead at CARE Deutschland