Book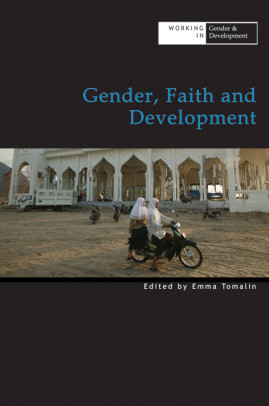 Faith-based organizations have long been involved in charitable and development activities. However, the emerging openness to thinking about and engaging with religion in development raises some important questions. Does religious engagement in development policy and practice risk harming already fragile gender relations? What are the challenges and opportunities in negotiating the relationships between religion, gender, and development? Gender, Faith, and Development explores in different ways the relationships between religion, gender, and development. Subjects covered include attitudes towards sexual behaviour in areas with a high prevalence of HIV and AIDS; household disputes over the control of income; constraints on women's time; the difficulties of introducing Western models of gender equity to those in Muslim societies who see feminism as a threat; and changes in abortion legislation. This book is essential reading for academics and researchers in development, gender, political science, sociology, or religious studies, and of interest to development policy makers and practitioners, voluntary sector workers, and social movement activists.
1 Introduction 1

Emma Tomalin

2 The challenges of incorporating Muslim women's views into

development policy: analysis of a Dutch action research project

in Yemen 13

Brenda Bartelink and Marjo Buitelaar

3 Tackling HIV and AIDS with faith-based communities: learning

from attitudes on gender relations and sexual rights within local

evangelical churches in Burkina Faso, Zimbabwe, and South

Africa 25

Mandy Marshall and Nigel Taylor

4 The Thai bhikkhuni movement and women's empowerment 37

Emma Tomalin

5 Reflecting on gender equality in Muslim contexts in Oxfam GB 51

Adrienne Hopkins and Kirit Patel

6 Christianity, development, and women's liberation 65

Bridget Walker

7 Conflict and compliance: Christianity and the occult in

horticultural exporting 75

Catherine S. Dolan

8 No time to worship the serpent deities: women, economic

change, and religion in north-western Nepal 85

Rebecca Saul

9 A double-edged sword: challenging women's oppression

within Muslim society in Northern Nigeria 97

Fatima L. Adamu

10 Islam and development: opportunities and constraints for

Somali women 105

Sadia Ahmed

11 Abortion law reform in Latin America: lessons for advocacy 111

Gillian Kane

12 Conclusion: moving forward 127

Emma Tomalin

Annotated bibliography 137

Index 145
Emma Tomalin Dr. Emma Tomalin is Senior Lecturer in the Department ofTheology and Religious Studies,University of Leeds, UK.
Persistent becoming: women's religious thought and the global
Ranawana, Anupama
International Politics Reviews, Vol. 8 (2020), Iss. 1 P.100
https://doi.org/10.1057/s41312-020-00076-9
[Citations: 0]
Religion and the Politics of Development
Gender, Development, and the "De-privatisation" of Religion: Reframing Feminism and Religion in Asia
Tomalin, Emma
2015
https://doi.org/10.1057/9781137438577_4
[Citations: 1]
Strong State Policies on Gender and Aid: Threats and Opportunities for Norwegian Faith-Based Organisations
Østebø, Marit Tolo
Haukanes, Haldis
Blystad, Astrid
Forum for Development Studies, Vol. 40 (2013), Iss. 2 P.193
https://doi.org/10.1080/08039410.2012.752761
[Citations: 1]
Introduction: gender, development and fundamentalisms
Sweetman, Caroline
Gender & Development, Vol. 25 (2017), Iss. 1 P.1
https://doi.org/10.1080/13552074.2017.1304063
[Citations: 0]
"It's a tricky one" – development practitioners' attitudes towards religion
Khalaf-Elledge, Nora
Development in Practice, Vol. 30 (2020), Iss. 5 P.660
https://doi.org/10.1080/09614524.2020.1760210
[Citations: 3]
Faith, Secularism, and Humanitarian Engagement
Towards More Effective Dialogue between Humanitarianism and Religion
Ager, Alastair
Ager, Joey
2015
https://doi.org/10.1057/9781137472144_4
[Citations: 0]
The role of faith-based health professions schools in Cameroon's health system
Herzig van Wees, Sibylle
Sop Sop, Maturin Désiré
Betsi, Emmanuel
Olongo, Silvère Antoine
Jennings, Michael
Global Public Health, Vol. 16 (2021), Iss. 6 P.895
https://doi.org/10.1080/17441692.2020.1828985
[Citations: 1]
Impressions & Indications of Religious Engagement in Development
Marshall, Katherine
The Review of Faith & International Affairs, Vol. 19 (2021), Iss. sup1 P.12
https://doi.org/10.1080/15570274.2021.1983358
[Citations: 0]