Book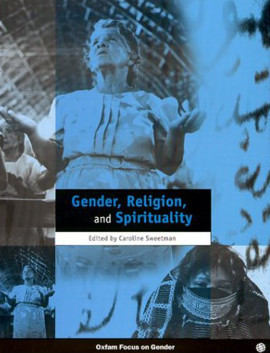 Gender, Religion and Spirituality
Published: 1998
Pages: 92

eBook: 9780855987541
Paperback: 9780855984267
Religion and spirituality are central to the lives of women and men across the world yet mainstream development policy and practice rarely take account of this fact. This collection of articles explores the complex links between social and economic development and religious and spiritual belief and assesses the cost to development of ignoring these links. Writers of many faiths, and those with none, explore the scope for promoting women's rights and needs offered by religious belief and practice and analyse feminist responses to fundamentalist regimes which use religious doctrine to justify women's oppression.
* Editorial

Caroline Sweetman

* Reconciling Islam and feminism

Iman Hashim

* Christianity, development, and women's liberation

Bridget Walker

* Conflict and compliance: Christianity and the occult in horticultural exporting

Catherine S Dolan

* No time to worship the serpent deities: Women, economic change, and religion in north-wester Nepal

Rebecca Saul

* Gender relations, 'Hindu' nationalism, and NGO responses in India

Stacey Burlet

* Religion, male violence, and the control of women: Pakistani Muslim men in Bradford, UK

Marie Macey

* A double-edged sword: Challenging women's oppression within Muslim society in Northern Nigeria

Fatima L Adamu

* Gender and development from a Christian perspective: Experience from World Vision

Linda Tripp

* Islam and development: Opportunities and constraints for Somali women

Sadia Ahmed

* 'The way to do is to be': Exploring the interface between values and research

Sharon Harper and Kathleen Clancy

* Resources

* Books

* Video

* Organisations

* Web Resources
Caroline Sweetman
Caroline Sweetman is Editor of the international journal Gender & Development and works for Oxfam GB.
Problems of Feminist Leadership among Educated Women in Ethiopia
Biseswar, Indrawatie
Journal of Developing Societies, Vol. 24 (2008), Iss. 2 P.125
https://doi.org/10.1177/0169796X0802400203
[Citations: 19]
Religion, patriarchy and the prospect for gender equality in South Africa
Maponya, Dimpho Takane
International Journal of Philosophy and Theology, Vol. 82 (2021), Iss. 4-5 P.337
https://doi.org/10.1080/21692327.2021.2003231
[Citations: 0]