Book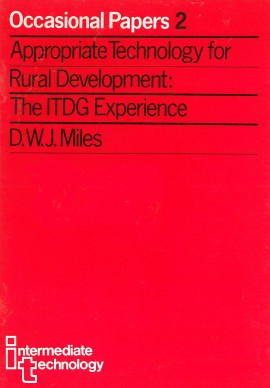 Appropriate Technology for Rural Development
The ITDG Experience
Published: 1982
Pages: 32

eBook: 9781780441665
Paperback: 9781853393679
Originally prepared for an Expert Meeting organised by UNESCO in 1980, this paper outlines Intermediate Technology's basic approach to development work; and assesses the lessons learned from 15 years' experience in development activities (Published in the ITDG Occasional Paper series).
CHOICE OF TECHNOLOGY

POLICY CONSIDERATIONS AND PRIORITIES

Education and Training

REFERENCES
Derek Miles
Dr Derek Miles is a Fellow of the Institution of Civil Engineers and the Chartered Management Institute, a Liveryman of the Worshipful Company of Engineers and a Freeman of the City of London.
Technological semantics and technological practice: Lessons from an enigmatic episode in twentieth-century technology studies
Willoughby, Kelvin W.
Knowledge, Technology & Policy, Vol. 17 (2004), Iss. 3-4 P.11
https://doi.org/10.1007/s12130-004-1002-7
[Citations: 5]
Construction
Larcher, Paul
Urban Forum, Vol. 10 (1999), Iss. 1 P.75
https://doi.org/10.1007/BF03036628
[Citations: 1]