Book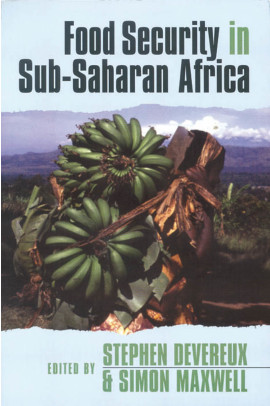 Sub-Saharan Africa's persistent food insecurity and vulnerability to famine reflects failures of understanding as much as failures of interventions. Food Security in Sub-Saharan Africa aims to contribute towards an improved understanding for more effective food security policy. This book brings together eleven substantial chapters on critical food security issues, and draws on a variety of disciplinary perspectives, from agricultural economics to nutrition. Most contributions reflect an evolution of thinking during the 1990s. Food insecurity is no longer seen simply as a problem of agriculture and a failure of food production at the national level, but instead as a failure of livelihoods to guarantee access to sufficient food at household level. The authors are all food security experts with long experience of research and advisory work in Africa.
Prelims (Acknowledgements, List of Boxes, List of Figures, List of Tables, List of Acronyms)
1. Introduction
Stephen Devereux and Simon Maxwell
2. The Evolution of Thinking about Food Security
Simon Maxwell
3. Agricultural Issues in Food Security
Simon Maxwell
4. Household Food and Livelihood Security
Jeremy Swift and Kate Hamilton
5. Food Security and the Environment
Susanna Moorehead and William Wolmer
6. Famine in Africa
Stephen Devereux
7. Food Marketing
Bob Baulch
8. Food Aid and Trade
Christopher Stevens and Jane Kennan
9. Food Security Information Systems
Stephen Devereux
10. Nutrition and Intervention Strategies
Helen Young
11. Transfers and Safety Nets
Stephen Devereux
12. Organisational Issues in Food Security Planning
Simon Maxwell
Back Matter (References, Notes, About the Contributors, Index)

Stephen Devereux Stephen Devereux is a development economist at IDS Sussex. He is the author of Theories of Famine and has a long interest in food security and poverty in sub-Saharan Africa.
Simon Maxwell Simon Maxwell was Director of the Overseas Development Institute (ODI) in London between 1997-2009. He previously worked overseas for ten years, in Kenya, India and Bolivia; and from 1981-1997 was a Fellow at the Institute of Development Studies, University of Sussex, latterly as Programme Manager for Poverty, Food Security and the Environment.