Book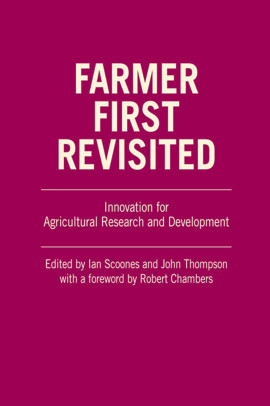 Farmer First Revisited
Innovation for agricultural research and development
Published: 2009
Pages: 369

eBook: 9781780440156
Paperback: 9781853396823
Agriculture is an urgent global priority and farmers find themselves in the front line of some of the world's most pressing issues- climate change, globalization and food security. Twenty years ago, the Farmer First workshop held at the Institute of Development Studies, University of Sussex, UK, launched a movement to encourage farmer participation in agricultural research and development (R & D), responding to farmers' needs in complex, diverse, risk-prone environments, and promoting sustainable livelihoods and agriculture. Since that time, methodological, institutional and policy experiments have unfolded around the world. Farmer First Revisited returns to the debates about farmer participation in agricultural R & D and looks to the future.The book presents a range of experiences that highlight the importance of going beyond a focus on the farm to a wider innovation system, including market interactions as well as the wider institutional and policy environment. If, however, farmers are really to be put first, a politics of demand is required in order to shape the direction of these innovative systems.
Prelims (Foreword - Robert Chambers)
Part I: Revisiting Farmer First
Farmer First revisited: innovation for agricultural research and development
Ian Scoones and John Thompson
Challenges to strenghtening agricultural innovation systems: where do we go from here?
Andy Hall
Fostering Farmer First methodological innovation: organizational learning and change in international agricultural research
Jacqueline A. Ashby
Part II: Systems of innovation
Developing seed systems in Africa
Jean Claude Rubyogoand Louise Sperling
Client-oriented breeding and seed supply
John Witcombe, Krishna Devkota, Daljit Virk, Krishna Rawal, Satish Prasad, Vikas Kumar and Krishna Joshi
Learning from experience: potato innovation systems and participatory research
Oscar Ortiz, Ricardo Orrego, Willy Pradel, Peter Gildermacher, Renee Castillo, Ronal Otiniano, Julio Gabriel, Juan Vallejo, Omar Torres,
Part III: The politics of demand and organizational change
Part IV: New professionalism, learning and change
Part V: Looking forward
Back Matter (Appendix 1: List of participants and contributors, References, Index)

Ian Scoones Ian Scoones is co-director of the ESRC STEPS Centre at Sussex and joint convenor of the IDS-hosted Future Agricultures Consortium. He is an agricultural ecologist whose interdisciplinary research links the natural and social sciences.
John Thompson John Thompson is a Research Fellow at the Institute of Development Studies, University of Sussex.