Book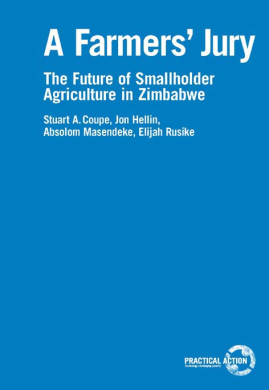 This ITDG Working Paper analyses the experience of a farmers' jury in Zimbabwe. Representatives of poor farmers mapped out their vision for the future of agriculture in their country after hearing from policy makers and technical experts of every shade of opinion. The ITDG Working Papers are designed to make available to the wider development community the knowledge and insights that the Intermediate Technology Development Group is generating about technology and development. The papers are selected for their contribution to debate, with the hope of stimulating further research or contributing to similar work in progress. The series is edited by Andrew Scott, International Programmes and Policy Director of ITDG.
Prelims (Contents, Acknowledgements, Executive summary)

1. A Farmers' Jury
Stuart Coupe
Stuart Coupe formerly International Projects Manager of the Reducing Vulnerability Team at Practical Action, an international NGO active on agricultural biodiversity and Farmers' Rights issues, has a background in Southern African Studies, including doctorate study and published works since 1992.
Jon Hellin
Jon Hellin was recently an International Team Leader of ITDG's programme on markets and livelihoods, and an Honorary Research Associate at Oxford Brookes University.
Absolom Masendeke
Absolom Masendeke is the Southern Africa Team Leader for ITDG's programme on reducing vulnerability.
Elijah Rusike
Elijah Rusike, a former Food Security Project Manager with ITDG Southern Africa, is currently an independent consultant.