Book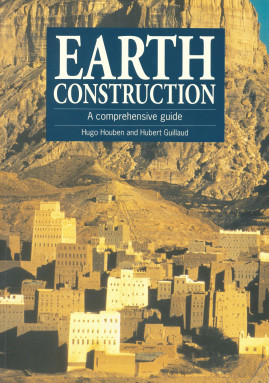 Earth Construction
A comprehensive guide
Published: 1994
Pages: 376

eBook: 9781780444826
Paperback: 9781853391934
A comprehensive and illustrated handbook which will be essential reading for anyone involved in construction. Earth is extremely versatile and cheap but users must have a proper knowledge of its real potential in order to use it to its best effect. There are virtually no limitations on the use of the material, if users are aware of how to profit from the wide range of its qualities and ameliorate its defects.

This book is intended to serve as a practical manual and teaching handbook. It is aimed as all persons involved in earth construction projects: decision makers and planners, building inspectors, architects and engineers, technicians of all levels, building promoters, bricklayers, and sub-contractors.
FOREWORD ix

by Jan Pronk, Minister for Development Co-operation, The Netherlands

HOW TO USE THIS BOOK x

SI UNITS AND CONVERSION FACTORS xi

Introduction to small-scale energy technologies 1

by Peter Fraenkel

Socio-economic considerations 11

by Wim Hulscher

1 Solar power

Introduction by Anthony Derrick, Roy Barlow and Modibo Dicko 23

Photovoltaic equipment 40

2 Wind power

Introduction by Frank Goezinne, Dick Veldkamp,

Alvaro Pinilla and Robert W. Todd 73

Wind pumps 86

Wind generators 102

3 Water power

Introduction by Andy Brown and Bikash Pandey 123

Water turbines 137

Hydraulic ram pumps 172

4 Biomass energy technologies

Introduction by Joy Clancy, Hajo Brandt and P.D. Grower 175

Pre-treatment equipment 204

Briquetting equipment 207

Gasifiers 235

Combustion equipment 213

Steam turbines 219

5 Internal combustion engines

by Joy Clancy and Kamal Siddiqui 239

SUPPLIERS INDEX 246

INDEX 275
Economic benefits of contemporary earth construction in low-cost urban housing – State-of-the-art review
Zami, Mohammad Sharif
Lee, Angela
Journal of Building Appraisal, Vol. 5 (2010), Iss. 3 P.259
https://doi.org/10.1057/jba.2009.32
[Citations: 31]
Technical Strategies for Conservation of Earthen Archaeological Architecture
Correia, Mariana
Guerrero, Luis
Crosby, Anthony
Conservation and Management of Archaeological Sites, Vol. 17 (2015), Iss. 3 P.224
https://doi.org/10.1080/13505033.2015.1129799
[Citations: 11]
Encyclopedia of Geoarchaeology
Tells
Matthews, Wendy
2017
https://doi.org/10.1007/978-1-4020-4409-0_148
[Citations: 1]
UNI*VERS
Zur Erhaltung des Kulturerbes Tibets
Gruber, Maria M.
2010
https://doi.org/10.1007/978-3-211-99285-2_14
[Citations: 0]
Sample size choices for XRCT scanning of highly unsaturated soil mixtures
Smith, Jonathan C.
Augarde, Charles E.
Delage, P.
Cui, Y.-J.
Ghabezloo, S.
Pereira, J.-M.
Tang, A.-M.
E3S Web of Conferences, Vol. 9 (2016), Iss. P.06005
https://doi.org/10.1051/e3sconf/20160906005
[Citations: 0]
The Use of Contact Sponge Method to Measure Water Absorption in Earthen Heritage Treated with Water Repellents
Ribeiro, Telma
Oliveira, Daniel V.
Bracci, Susanna
International Journal of Architectural Heritage, Vol. 16 (2022), Iss. 1 P.85
https://doi.org/10.1080/15583058.2020.1751344
[Citations: 3]
Defining Criteria for Intervention in Earthen-Built Heritage Conservation
Rosado Correia, Mariana Rita Alberto
Walliman, Nicholas Stephen Robert
International Journal of Architectural Heritage, Vol. 8 (2014), Iss. 4 P.581
https://doi.org/10.1080/15583058.2012.704478
[Citations: 12]
Influence of natural fiber dosage and length on adobe mixes damage-mechanical behavior
Araya-Letelier, G.
Concha-Riedel, J.
Antico, F.C.
Valdés, C.
Cáceres, G.
Construction and Building Materials, Vol. 174 (2018), Iss. P.645
https://doi.org/10.1016/j.conbuildmat.2018.04.151
[Citations: 43]
Sustainable architecture evaluation method in an African context: transgressing discipline boundaries with a systems approach
Sanya, Tom
Sustainability Science, Vol. 7 (2012), Iss. 1 P.55
https://doi.org/10.1007/s11625-011-0137-1
[Citations: 2]
The particular "rammed earth" of the Saadian sugar refinery of Chichaoua (XVIth century, Morocco): mineralogical, chemical and mechanical characteristics
Gamrani, Naoual
R'kha Chaham, Khalid
Ibnoussina, Mouncif
Fratini, Fabio
Rovero, Luisa
Tonietti, Ugo
Mansori, Mohammed
Daoudi, Lehcen
Favotto, Claude
Youbi, Nasrrddine
Environmental Earth Sciences, Vol. 66 (2012), Iss. 1 P.129
https://doi.org/10.1007/s12665-011-1214-6
[Citations: 18]
Optimum water content tests for earthen construction materials
Smith, Jonathan Chase
Augarde, Charles
Proceedings of the Institution of Civil Engineers - Construction Materials, Vol. 167 (2014), Iss. 2 P.114
https://doi.org/10.1680/coma.12.00040
[Citations: 9]
Rheological, mechanical properties, and statistical significance analysis of shotcrete with various natural fibers and mixing ratios
Yun, Kyong Ku
Hossain, Mohammad Shakhawat
Han, Seungyeon
Seunghak, Choi
Case Studies in Construction Materials, Vol. 16 (2022), Iss. P.e00833
https://doi.org/10.1016/j.cscm.2021.e00833
[Citations: 5]
Testing and Characterisation of Earth-based Building Materials and Elements
Environmental Potential of Earth-Based Building Materials: Key Facts and Issues from a Life Cycle Assessment Perspective
Ventura, Anne
Ouellet-Plamondon, Claudiane
Röck, Martin
Hecht, Torben
Roy, Vincent
Higuera, Paula
Lecompte, Thibaut
Faria, Paulina
Hamard, Erwan
Morel, Jean-Claude
Habert, Guillaume
2022
https://doi.org/10.1007/978-3-030-83297-1_8
[Citations: 2]
In situ mechanical investigation of rammed earth: Calibration of minor destructive testing
Lombillo, I.
Villegas, L.
Fodde, E.
Thomas, C.
Construction and Building Materials, Vol. 51 (2014), Iss. P.451
https://doi.org/10.1016/j.conbuildmat.2013.10.090
[Citations: 29]
Physico-chemical, mineralogical, and technological characterization of stabilized clay bricks for restoration of Kasbah Ait Benhadou- Ouarzazate (south-east of Morocco)
Lechheb, M.
Harrou, A.
El Boukili, G.
Azrour, M.
Lahmar, A.
El Ouahabi, M.
Gharibi, E.K
Materials Today: Proceedings, Vol. 58 (2022), Iss. P.1229
https://doi.org/10.1016/j.matpr.2022.01.459
[Citations: 0]
Structural Analysis of Historical Constructions
Academy, Cultural Heritage and Innovation in the Province of Azuay, Ecuador
Amaya, Jorge
García, Gabriela
Jara, David
2019
https://doi.org/10.1007/978-3-319-99441-3_221
[Citations: 0]