Book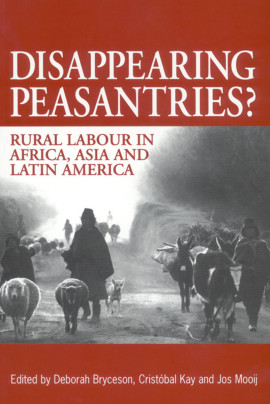 This book points out how peasant labour redundancy can undermine rural welfare and political stability, and why academics and policy-makers of the twenty-first century cannot ignore the world's disappearing peasantries without endangering sustainable development and international security. The editors combine rural research with a new analytical perspective on major peasant and agrarian development debates, and provide an insight into peasant studies and the western biases that have permeated it. The rich case study material from all three continents illustrates the pressures and opportunities that have befallen peasants, leading them to 'diversify' into a number of occupations and non-agricultural income-earning avenues. The relationship of peasants to the land has changed; and the factors influencing this are discussed. These include multi-occupational livelihoods, intensified labour mobility and flexibility, straddled urban and rural residences, and flooded labour markets. The state and market influences on the rural family and village community are also examined.
Foreword

Introduction

Chapter 1. Peasant Theories and Smallholder Policies. Past and Present.

PART 1. SUB-SAHARAN AFRICA.

Chapter 2. African Peasants' Centrality and Marginality. Rural Labour Transformations

Chapter 3. Modernization and Adjustment in African Peasant Agriculture

Chapter 4. Veiled Conflicts: Peasant Differentiation, Gender and Structural Adjustment in Nigerian Hausaland

Chapter 5. The Politics of Peasant Ethnic Communities and Urban Civil Society: Reflections of an African Dilemma

Chapter 6. Peasant Wars in Africa: Gone With the Wind.

PART II. LATIN AMERICA.

Chapter 7. Latin America's Agrarian Transformation: Peasantisation and Proletarianisation

Chapter 8. Towards a Reconstruction of Cuba's Agrarian Transformation: Peasantisation, Depeasantisation and Repeasantisation

Chapter 9. The Mexican Peasantry and the Ejido in the Neo-Liberal Period

Chapter 10. Global-Local Links in Latin America's New Ruralities

Chapter 11. Structural Adjustment, Peasant Differentiation and the Environment in Central America.

PART III. ASIA.

Chapter 12. Changing Peasantries in Asia

Chapter 13. Labour and Landlessness in South and Southeast Asia

Chapter 14. Women Workers in Bonded Labour in Rural Industry in South India: Responsibility without Rights

Chapter 15. The Fate of the Chinese Peasantry since 1978

Chapter 16. Japan's New Peasants John Knight.

Conclusions.

Chapter 17: Disappearing Peasantries? Rural Labour Redundancy in the Neo-Liberal
Deborah Bryceson Deborah Bryceson is Reader in Urban Studies, Department of Geographical and Earth Sciences, University of Glasgow.
Christobal Kay Cristobal Kay is an associate professor at the Institute of Social Studies, The Hague, The Netherlands.
Jos Mooij Jos Mooij is a lecturer at the Institute of Social Studies, The Hague, The Netherlands.