Book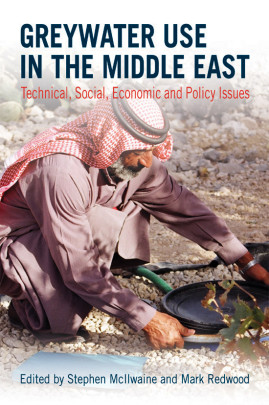 Greywater Use in the Middle East
Technical, social, economic and policy issues
Stephen McIlwaine, Mark Redwood
Published: 2010
Pages: 200

eBook: 9781780440224
Paperback: 9781853396984
In water-scarce areas of the Middle East, greywater (household wastewater excluding toilet waste) is commonly used by poor communities to irrigate home gardens. This both supplements the water available to the household and improves food security. This book draws together material presented at a conference in Jordan in 2007, and examines the technical approaches to treating and using greywater for irrigation, including its associated risks to health and the environment. It discusses many of the non-technical issues that influence effectiveness and sustainability of greywater use. It also takes a hard look at economic issues, arguing that more clarity and consistency from policymakers is essential if low-income, water-stressed communities are to make better and safer use of their existing water supplies. The book concludes by offering suggestions for where donor efforts and research could best be focused in the near future.Greywater use in the Middle East is important reading for researchers, donors, implementing agencies, and policymakers, in the fields of water supply, water reuse, livelihoods and agriculture.
Prelims (Figures, Tables, Foreword - Dr Munther Haddadin, former Minister of Water and Irrigation, Jordan

Preface - Stephen McIlwaine and Mark Redwood, Acknowledgements, Acronyms and abbreviations)

1. Introduction: Greywater use in the Middle East – the story so far

PART I: TECHNICAL ASPECTS

2. On-site greywater treatment in Qebia Village, Palestine

3. Greywater use in rural home gardens in Karak, Jordan

4. Greywater management in the northeastern Badia of Jordan

PART II: SOCIOECONOMIC ASPECTS

5. Stakeholder participation in greywater management in the Jordanian Badia

6. Comparative socioeconomic study of greywater and cesspit systems in Ramallah, Palestine

7. Can local people accept greywater technology?

8. Lessons from a participatory approach to household greywater use in Jordan

9. Greywater use as a gender empowerment project in Tannoura, Lebanon

10. Greywater use: Islamic perspectives

PART III: POLICY ISSUES AND NEXT STEPS

11. Policy and regulatory approaches to greywater use in the Middle East

12. Conclusion: Next steps for research, policy and implementation
Stephen McIlwaine Stephen McIlwaine has been based in Amman, Jordan for 10 years, working mostly on projects and studies related to water and the environment. He is Director of CSBE, a Jordanian study center with wide ranging interests in sustainable and appropriate solutions related to the built environment.
Mark Redwood Mark Redwood worked for 10 years on urban agriculture and wastewater use issues. Authored several publication related to this, and managed a large portfolio of projects on greywater and wastewater use in general. He has also presented at several international events on the topic of wastewater use – Stockholm World Water Week and the World Urban Forum.