Book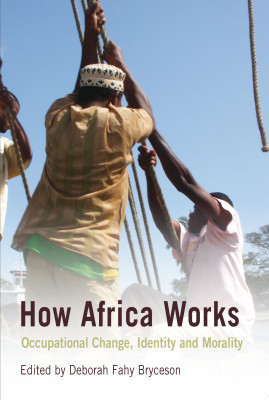 How Africa Works
Occupational change, identity and morality
Published: 2010
Pages: 310

eBook: 9781780440248
Paperback: 9781853396915
Occupational change is generally assumed to accompany 'development' and to be a necessary part of achieving improved standards of living. But occupational change goes beyond individuals' economic activities and income-earning to redefine their social identity and contribute fundamentally to the reconfiguration of the ethical foundations of local communities and nation states. The search for alternative, viable livelihoods in times of economic crisis involves age-old occupational pursuits and work hierarchies eroding and new occupational identities and ethics coalescing. Social trust is put to the test as novel work situations and mobility patterns emerge. How Africa Works identifies the influence of changing work modes on the moral economy and social dynamics of the continent. Probing how occupational change alters identity and moulds consensus towards a new social morality, this book challenges the view that development is secured through a market or alternatively a state-led path. Case studies reveal a wealth of insights into the interaction between states, markets, communities and households, and illustrate how material reality and ethical values transform in unexpected ways. This book is important reading for students, academics and policy makers working on Africa.
Section I: Introduction

1. Africa at work: transforming occupational identity and morality

Deborah Fahy Bryceson

Section II: New Occupational Mobility and Forms of Exchange in Globalizing Economies

2. From farmers to traders: shifting identities in rural Igbo society, Nigeria

Barth Chukwuezi and Dmitri van den Bersselaar

3. Does trust travel? Horticultural trade in Kenya

Tjalling Dijkstra

4. Calculated chaos or cooperation? Informal financial markets in Kinshasa

Mindanda Mohogu

5. Linking irregular economies: remaking trans-urban commercial networks through new forms of social collaboration

Abdou Maliq Simone

6. Social capital or social exclusion? Social networks and informal manufacturing in Nigeria

Kate Meagher

Section III: Changing Work Patterns and Social Dynamics in Households, Communities and Nation-States

7. Body and soul: economic space public morality and social integration of youth in Cameroon

Nantang Jua

8. Between family and market: urban informal workers' networks and identities in Bissau, Guinea-Bissau

Ilda Lindell

9. Sweet and sour: women working for wages on Tanzania's sugar estates

Marjorie Mbilinyi

Section IV: Occupational Change and Public Policy

10. Shifting out of gear: households, livelihoods and public policy on the south African wild coast

Leslie Bank

11. Fair or foul play: taxation of women entrepreneurs in Cameroon

Margaret Niger-Thomas

12. Occupational change, structural adjustment and trade union identity in Africa: the case of Cameroonian plantation workers

Piet Konings

13. With or against the odds? Professionalization of the labour force in Tanzania

Pekka Seppällä

Section V: Conclusion

14. Between moral economy and civil society: Durkheim revisited

Deborah Fahy Bryceson
Deborah Bryceson Deborah Bryceson is Reader in Urban Studies, Department of Geographical and Earth Sciences, University of Glasgow.
INTRODUCTION: MUTUAL HELP IN AN ERA OF UNCERTAINTY
Rodima-Taylor, Daivi
Bähre, Erik
Africa, Vol. 84 (2014), Iss. 4 P.507
https://doi.org/10.1017/S0001972014000461
[Citations: 9]
Ghana's cocoa frontier in transition: the role of migration and livelihood diversification
Knudsen, Michael Helt
Agergaard, Jytte
Geografiska Annaler: Series B, Human Geography, Vol. 97 (2015), Iss. 4 P.325
https://doi.org/10.1111/geob.12084
[Citations: 11]
The pragmatics of friendship: support and speculation among young street traders in Tanzania
Asselberg, Katrijn
African Identities, Vol. 14 (2016), Iss. 4 P.308
https://doi.org/10.1080/14725843.2016.1143801
[Citations: 2]
Birth of a market town in Tanzania: towards narrative studies of urban Africa
Bryceson, Deborah Fahy
Journal of Eastern African Studies, Vol. 5 (2011), Iss. 2 P.274
https://doi.org/10.1080/17531055.2011.571389
[Citations: 20]
Miners' magic: artisanal mining, the albino fetish and murder in Tanzania
Bryceson, Deborah Fahy
Jønsson, Jesper Bosse
Sherrington, Richard
The Journal of Modern African Studies, Vol. 48 (2010), Iss. 3 P.353
https://doi.org/10.1017/S0022278X10000303
[Citations: 35]
Precarity and Vocational Education and Training
The Changing Nature and Meanings of Manual Work
Pantea, Maria-Carmen
2019
https://doi.org/10.1007/978-3-030-02689-9_2
[Citations: 0]
PASSAGEWAYS OF COOPERATION: MUTUALITY IN POST-SOCIALIST TANZANIA
Rodima-Taylor, Daivi
Africa, Vol. 84 (2014), Iss. 4 P.553
https://doi.org/10.1017/S0001972014000497
[Citations: 8]
Gender Inequality, Processes of Adaptation, and Female Local Initiatives in Cash Crop Production in Northern Tanzania
Manzanera-Ruiz, Roser
Lizárraga, Carmen
Mwaipopo, Rosemarie
Rural Sociology, Vol. 81 (2016), Iss. 2 P.143
https://doi.org/10.1111/ruso.12090
[Citations: 5]
Developmental spaces? Developmental Psychology and urban geographies of youth in sub-Saharan Africa
Banks, Nicola
Children's Geographies, Vol. 19 (2021), Iss. 2 P.210
https://doi.org/10.1080/14733285.2020.1778638
[Citations: 0]