Book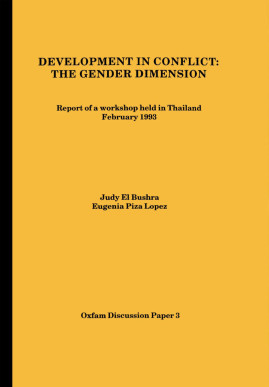 This report arose out of a workshop held in Thailand in February 1993, which included participants from Oxfam UK and Ireland, from the Gender and Development Unit, staff in Asia and the Middle East and from sister organizations. The report aims to present the discussions at the workshop in a form which should be of interest and practical use to development workers, both in the field and in planning and policy, who are seeking practical and theoretical insights into the problems of integrating a gender perspective into conflict-related work. The impact of conflict on women and gender relations are analysed, and appropriate research and planning tools, gender-sensitive programme implementation and training needs for staff and partners are assessed. There are several case studies from different countries where conflict is affecting the lives of men and women, and the work of NGOs.
* Forward

I: Development and conflict:The Gender Dimension

1. Understanding armed conflict

1.1:Introduction

1.2:Analysing conflicts

1.3:Conflict as a process

1.4:A new model of development

2. The gender dimensions of armed conflict

2.1:Introduction

2.2:Women's experience in conflict

2.3:Changes in gender relations: power, conflict and transformation

3. Implementing gender-sensitive responses to armed conflict

3.1:Introduction

3.2:Assessment, monitoring and evaluation

3.3:Policy considerations in specific conflict-related situation

3.4:Partnership issues

3.5:Institutional issues

II Case Studies

1. The impact of armed conflict on gender relations

Cambodia

Somalia

Uganda

2. The effects of conflict on women

An overview

A checklist

3. Meeting the support needs of women in conflict situations

Sri Lanka

4. Working with partners on gender issues in conflict situations

Burma

Philippines

5. The evolution of Oxfam's gender strategy in conflict

Lebanon

* References

* Figures
Judy El Bushra
Judy El Bushra is a Programme Manager at the Great Lakes Programme of International Alert. She has 30 years of experience in development work in both governmental and non-governmental bodies, with a particular geographical focus on Sudan and Somalia. Her main areas of professional interest have been research and training in gender and development, distance education, conflict analysis, and, more recently, culture and performance and their relevance for development.
Eugenia Piza-Lopez
Eugenia Piza Lopez is the Team Leader for the Crisis Prevention and Disaster Preparedness Programme of the UNDP Pacific Sub-Regional Centre working on disaster preparedness, risk reduction, conflict prevention and recovery issues. Eugenia also worked for Oxfam GB for nine years as Social Development Adviser for Asia, Head of the Gender and Development Unit and as Senior Policy Adviser in charge of policy advocacy towards the United Nations.
Women as political participants: Psychosocial postconflict recovery in Peru.
Laplante, Lisa J.
Peace and Conflict: Journal of Peace Psychology, Vol. 13 (2007), Iss. 3 P.313
https://doi.org/10.1080/10781910701471355
[Citations: 10]
Researching 'a family affair': Domestic violence in former Yugoslavia and Albania
Maguire, Sarah
Gender & Development, Vol. 6 (1998), Iss. 3 P.60
https://doi.org/10.1080/741922825
[Citations: 5]
Women, war and transition
El-Bushra, Judy
Mukarubuga, Cecile
Gender & Development, Vol. 3 (1995), Iss. 3 P.16
https://doi.org/10.1080/741921866
[Citations: 4]
Rehabilitation, sustainable peace and development: Towards reconceptualisation
Green, Reginald Herbold
Third World Quarterly, Vol. 20 (1999), Iss. 1 P.189
https://doi.org/10.1080/01436599913992
[Citations: 12]
The effects of armed conflict on girls and women.
McKay, Susan
Peace and Conflict: Journal of Peace Psychology, Vol. 4 (1998), Iss. 4 P.381
https://doi.org/10.1207/s15327949pac0404_6
[Citations: 51]
Crop Cultivation at Wartime – Plight and Resilience of Tigray's Agrarian Society (North Ethiopia)
Nyssen, Jan
Negash, Emnet
Van Schaeybroeck, Bert
Haegeman, Kiara
Annys, Sofie
(2022) P.1
https://doi.org/10.1080/10242694.2022.2066420
[Citations: 1]
Healing the psychological wounds of gender-related violence in Latin America: A model for gender-sensitive work in post-conflict contexts
Leslie, Helen
Gender & Development, Vol. 9 (2001), Iss. 3 P.50
https://doi.org/10.1080/13552070127752
[Citations: 3]