Book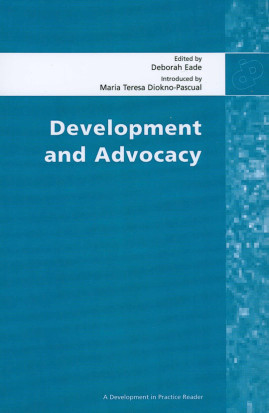 Most major development NGOs dedicate significant resources to advocacy. Many also work to inform and shape public opinion, whether through advertising or fundraising or through education programmes. They argue that fundamental change is not achieved until the policy environment is right and cannot be sustained without a groundswell of support for reform. In recent years, however, advocacy work has come under increasing criticism. NGOs are challenged on the grounds of: Legitimacy - Whom do they represent, and to whom are they accountable? Effectiveness - What practical impact does high-level advocacies have on the lives of people living in poverty and who is to judge this? Role - Should NGOs try to combine funding and advocacy or do these demand different kinds of South-North relationship? Strategy - Are NGOs seduced by agencies like the World Bank or by the corporate sector to readily? When does constructive engagement with these powerful bodies turn into co-option by them? As international grassroots advocacy is becoming more vocal thanks to new communication technologies; what is the appropriate role for Northern NGOs?
Contributors

Preface

Deborah Eade

Development and advocacy

Maria Teresa Diokno-Pacual

NGOs and advocacy: how well are the poor represented

Warren Nyamugasira

The international anti-debt campaign: a Southern activist view for activists in "the North" and "the South"

Dot Keet

Human rights and religious backlash: the experience of a Bangladeshi NGO

Mohammad Rafi and A.M.R. Chowdhury

Disaster without memory: Oxfam's drought programme in Zambia

K. Pushpanath; Campaigning: a fashion or the best way to change the global agenda?

Gerd Leipold

Northern NGO advocacy: perceptions, reality and the challenge

Ian Anderson

"Does the doormat influence the boot?" critical thoughts on UK NGOs and international advocacy

Michale Edwards

The effectiveness of NGO campaigning: lessons from practice

Jennifer Chapman and Thomas Fisher

Heroism and ambiguity: NGO advocacy in international policy

Paul Nelson

Northern words, Southern readings

Carmen Marcuello and Chaime Marcuello

Menchu Tum,Stoll, and martyrs of solidarity

Larry Reid

The People's Communication Charter

Cees J.Hamelink

Annotated bibliography

Organisations

Addresses of publishers
Deborah Eade Deborah Eade was Editor-in-Chief of Development in Practice from 1991 to 2010, prior to which she worked for 10 years in Latin America. She is now an independent writer on development and humanitarian issues, based near Geneva.
Hybrid Cultures of Postdevelopment: The Struggle for Popular Hegemony in Rural Nicaragua
Cupples, Julie
Glynn, Kevin
Larios, Irving
Annals of the Association of American Geographers, Vol. 97 (2007), Iss. 4 P.786
https://doi.org/10.1111/j.1467-8306.2007.00583.x
[Citations: 15]