Book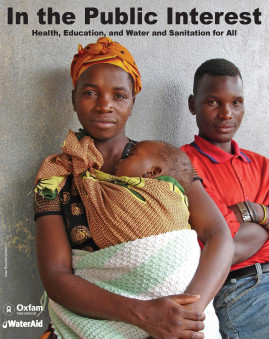 In the Public Interest
Published: 2006
Pages: 126

eBook: 9780855987756
Paperback: 9780855985691
This report shows that building public services in developing countries is at the heart of making poverty history. Doing this could transform the lives of millions of people - and, with political leadership, is well within the grasp of our generation.Governments must take responsibility for providing essential services that are well staffed, affordable for even the poorest people, and accessible to all. Civil society organisations and private companies can make important contributions, but they must be integrated into public systems. International donors are crucial partners, but too often they block progress by failing to deliver debt relief and predictable aid that supports public systems, or push private sector solutions that do not benefit poor people.
Foreword

Acronyms and abbreviations

Summary

Public success: governments that ensure essential services for all

Public failure — when governments fail to act

Civil society: picking up some of the pieces

If the state is broken, the market does not solve the problem

What needs to happen

Recommendations

1. Essential services: failing to meet essential needs

Water and sanitation: far off-track

Health: enduring inequalities

Education: signs of progress

2. What works? The case for universal public services

Incomes matter, but policies matter too

When governments get it right: learning from success

Lessons from developing country success

3. When it goes wrong: poor country government neglect and broken promises

The missing millions — doctors, nurses, teachers, and administrators

Killer fees

Missing money

Servicing the rich

4. Rich country governments: pushing for private provision and breaking aid promises

Private provision is profitable, but not equitable

Things the rich countries don't try at home

Stealing staff from poor countries

Rich countries still falling short on aid

5. Time to deliver: how developing countries and rich country governments can build effective public services

What developing countries need to do

What rich countries need to do

Conclusion

Notes

References
Bethan Emmett
Bethan Emmett is a Policy Adviser in financing for development and gender equality, specifically macroeconomic policy and public expenditure.
The Role of the Bretton Woods Institutions in Forming and Spreading Education Policies
Voutsa, Maria Eleni
Borovas, George
Fotopoulos, Nikos
Procedia Economics and Finance, Vol. 9 (2014), Iss. P.83
https://doi.org/10.1016/S2212-5671(14)00010-0
[Citations: 1]
Entrepreneurship, Business and Economics - Vol. 2
The Evolution of School Textbook Supply Systems: Cost, Supply Procedures and State Policies
Manolopoulos, Christos
Roniotes, Celia
Eustathiadou, Rozina
Sofotassios, Dimitrios
2016
https://doi.org/10.1007/978-3-319-27573-4_25
[Citations: 0]
How do we make inclusive education happen when exclusion is a political predisposition?
Slee, Roger
International Journal of Inclusive Education, Vol. 17 (2013), Iss. 8 P.895
https://doi.org/10.1080/13603116.2011.602534
[Citations: 114]