Book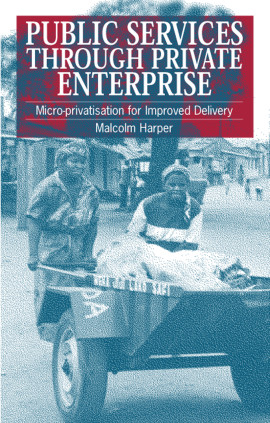 Public Services Through Private Enterprise
Micro-privatization for improved delivery
Published: 2000
Pages: 380

eBook: 9781780440927
Paperback: 9781853395192
Cigarettes and soft drinks are available in just about every village in the developing world - clean water, primary education and health services are not. The main reason for this paradoxical and tragic situation is the failure to deliver public services, especially in the face of growing populations. What is more, the supply of essential services in most developing countries is grossly inequitable - those who need them the most are the least able to afford them. This important book suggests a strategy to overcome what appears to be an otherwise hopeless situation - 'micro-privatization'. Governments can hand over responsibility for many public services to small private or community enterprises. The quality, efficiency and outreach of the services are considerably improved, and the costs significantly reduced. To illustrate the efficacy of this strategy, Malcolm Harper presents twenty-four real life case studies from Asia, Africa and Latin America, the USA and Europe, which amply demonstrate that micro-privatization is practical anywhere. The activities covered by these examples of successful initiatives include urban services, utilities, agricultural services, health and hygiene, transport, welfare and education.
9781780440927.000 (page 1)
9781780440927.001 (page 13)
9781780440927.002 (page 32)
9781780440927.003 (page 89)
9781780440927.004 (page 153)
9781780440927.005 (page 245)
9781780440927.006 (page 306)
9781780440927.007 (page 323)
9781780440927.008 (page 352)
9781780440927.009 (page 384)
9781780440927.010 (page 418)
9781780440927.011 (page 422)

Malcolm Harper
Malcolm Harper taught at Cranfield School of Management until 1995, and since then has worked mainly in India. He has published on enterprise development and microfinance. He was Chairman of Basix Finance from 1996 until 2006, and is Chairman of M-CRIL, the microfinance credit rating agency.