Book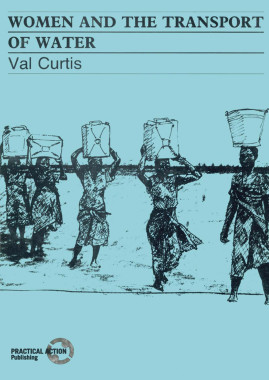 Women and the Transport of Water
Published: 1986
Pages: 54

eBook: 9781780444468
Paperback: 9780946688425
The haulage of water is one of the most arduous and time-consuming tasks of rural women, and this paper looks at the scale of the problem in general and in particular in Kenya, suggesting ways in which improved methods of transport could help.
List of Acronyms i-v

Preface v

I WOMEN AND THE TRANSPORT OF WATER

A Background 1

B Why Improve Water Supplies? 3

C Transport and Development 5

D The Division of Labour 6

E The Consequences of Having to Carry Water 9

1 Health effects 9

2 Economic effects 10

3 Social effects 12

F Alternative Technologies 13

1 Carrying aids 14

2 Wheelbarrows and handcarts 17

3 Animal transport 18

4 Others 19

5 Introducing new technologies 21

II KENYA: THE PROBLEMS AND SOME SOLUTIONS

A Water Supply in Kenya 23

B The Workload 25

C Carrying Methods 28

D Case Studies in Kenya 32

1 Kamajene Farmers' Centre 32

2 Action Aid - Kibwezi Region 34

3 Utooni Development Project 36

4 Discussion 39

E Donkeys in Development 42

III CONCLUSIONS

A General Conclusions 44

B Conclusions on Kenya 44
Val Curtis
Val Curtis is on the board of management and the audit committee of the LSHTM and the management committee of the History Centre, and was a founder of the Global Public-Private Partnership for Handwashing with Soap.