Book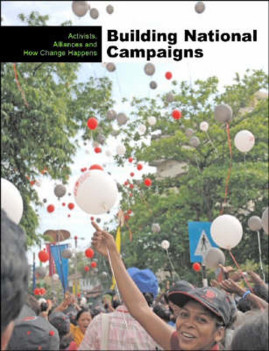 Building National Campaigns
Published: 2007
Pages: 116

eBook: 9780855986681
Paperback: 9780855985745
For many organisations, campaigning is a new type of activity and few have had the opportunity to help each other build capacity to campaign. This book draws on Oxfam International's experience in supporting national labour-rights campaigning initiatives at local and national level. The authors describe and analyse what happened in five campaigns in Colombia, Morocco, Nicaragua, Sri Lanka, and the United States. All faced enormous obstacles, and all were able to overcome them through innovation, new ways of working in alliance, and patient persistence towards their target. This book will be of interest to all campaigning individuals and organisations, not just those working on labour rights. The analysis includes learning points and examples of good practice. The book offers a menu of approaches and activities and readers can choose those which are appropriate and useful to their situation. A practical and up-to-date resources section helps the reader explore the issues further.
Introduction

1. Contexts

The case-study countries compared

The case-study campaigns

2. Building an alliance

Overview; History; Leadership; Membership; Decision-making; Trust; Strengths; Research; Funding; Summary; Key points

3. Developing a strategy

Overview; Starting from here; Identifying the problem; Defining a solution; Targets; Audiences; Actions; Timing; Summary; Key points

4. Incorporating gender equality

Overview; Women and men: changing power relations; Workers; Women's-rights organisations; Gender equality in the alliances; Summary; Key points

5. Using the media

Overview; The media; Press releases; Press conferences; Events; Visual images; Cultivating links with journalists; Do it yourself; Appropriate media; Summary; Key points

6. Developing policy

Overview; Research; Discussion; Publication; International; Summary; Key points

Conclusion
David Dalton
David Dalton worked for several years with the humanitarian agency GOAL in Ethiopia, becoming HR Manager for GOAL's worldwide operations. He took over as CEO of Plan Ireland in July 2007.