Book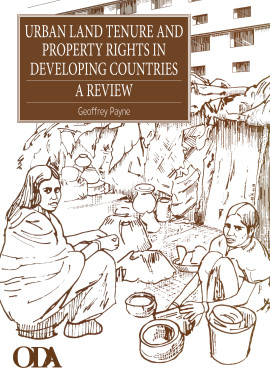 Urban Land Tenure and Property Rights in Developing Countries
A review
Published: 1997
Pages: 80

eBook: 9781780444437
Paperback: 9781853394003
This review surveys the extensive international literature on the subject. It proposes a typology which includes statutory, customary and unauthorized tenure systems, as a basis for assessing existing problems and formulating appropriate policies. It concludes with recommendations for improving tenure security which maximize benefits to the poor and minimize market distortion.
Acknowledgements
Preface
I. Introduction
II. Systems of land tenure and
property rights
Customary tenure and property rights
Private land tenure and property
Framework of tenure and property
rights
de facto security - no tenure
Official recognition - no title
Land rental
Occupancy and use rights
Communal or co-operative
ownership
Customary ownership
Instruments for improving tenure in
extra-legal settlements
Public land ownership or control 5
Religious concepts of land tenure and 5
property rights
Indigenous and imported tenure 5
concepts
Contemporary urban tenure systems 6
Criteria for assessing tenure and 10
property rights
III. National policy issues 11
Introduction 11
Policies and national land ownership 11
Policy in countries with private land 13
markets
Policy in countries with customary 14
land systems
Policies and plural land tenure 16
National tenure policy options 17
Freehold 17
Conditional freehold 18
Leasehold 18
Other tenure options 19
Tenure and access to credit 20
Substitutes for full tenure 21
Administration of tenure and 21
property rights
Tenure and land use 24
Tenure, housing investment and cost 25
Improving tenure systems 27
IV. Property rights in extra-legal 30
settlements
Introduction 30
V. The improvement of traditional 39
tenure arrangements
Introduction 39
Colonial responses 40
Recent government responses 40
Government acquisition and 42
development
Development by customary owners 42
Development by private 43
developers
Public and private sector joint 43
ventures
Conclusions 44
VI. Conclusions 46
Tenure, rights and urban 46
management
Policy objectives 47
Improving land market efficiency 48
through tenure policy
Improving equity through tenure 49
policy
Tenure policy and access to credit 49
Tenure policy and administrative 50
capability
Future research and the role of 50
international funding agencies
Annexe: An outline typology of land 52
tenure and property rights
Glossary of terms 55
Bibliography 58

Geoffrey Payne
Geoffrey Payne is a housing and urban development consultant based in London. He is author of Making Common Ground: Public-private Partnerships in Land for Housing also published by ITDG Publishing.