Book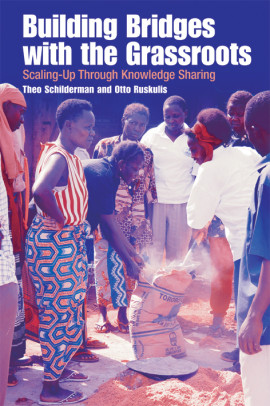 Building Bridges with the Grassroots
Scaling Up Through Knowledge Sharing
Published: 2005
Pages: 184

eBook: 9781780444611
Paperback: 9781853396168
About one billion people now live in the slums of the towns and cities of the developing world. And their number is set to double by 2030, unless concerted efforts are made to the contrary. Slums provide an unhealthy and dangerous living environment, and improving the living conditions of slum dwellers is therefore an important international goal. Unfortunately, the official target for doing so falls far short of the numbers affected. Already, the slum residents themselves are the major actors in upgrading their living environment, and there are many good examples of decentralized upgrading. In order to improve the lives of much larger numbers, these examples need to be scaled up. This book examines how this can be done successfully, by investigating a number of case studies and the lessons to be derived from those. It takes as a starting point that the social networks of the urban poor are an important source of information as well as means of communication. But they cannot provide answers to every problem, and one of the key questions is therefore how these networks can be stimulated to link up with other networks or external information sources.
Preface

Acknowledgements

List of figures

List of abbreviations

About the authors and contributors

1 Building bridges; changing lives

1.1. Cities without slums

1.2. Urban poverty – information poverty?

2 Women building disaster resilient communities

3 Women's voices through video

4 Enabling women's construction enterprises

5 Strengthening community savings and credit

6 Communities reducing kitchen smoke

7 Mothers campaigning for better lives

8 Sharing grassroots women's knowledge

9 Building skills, enterprizes and roofs

10 Communities organizing infrastructure improvement

11 Facing slums issues through federations

12 Scaled-up urban waste responses

13 Learning lessons and informing practice

14 Redefining policies, regulations and processes

Notes
Theo Schilderman Theo Schilderman is a Senior Researcher at the Building and Social Housing Foundation, UK. He is an architect with over 40 years' experience of low-cost housing and reconstruction in developing countries.
Future Challenges in Evaluating and Managing Sustainable Development in the Built Environment
Understanding Value Generation in Complex Urban Regeneration Projects
Formoso, Carlos T.
Miron, Luciana I.G.
2017
https://doi.org/10.1002/9781119190691.ch14
[Citations: 1]