Book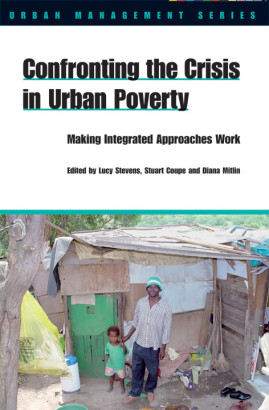 The challenge of urban poverty is growing every year. It is predicted that over 95% of global population growth between 2000 and 2030 will take place in the cities of the developing world. If current trends continue, the huge majority of those will end up in slums. Tackling urban poverty, however, has had a lower profile than other of the Millennium Development Goals, for example the one on water – despite the efforts of major players such as UN-Habitat. This book makes a case for approaches to urban development that are locally driven and which complement the vast investments and efforts of slum-dwellers themselves. It discusses a range of approaches for achieving that, focusing on practical experiences and clear lessons for the future. Essential reading for development practitioners, donors and funding agencies, academics and students interested in NGO-supported approaches to urban development.
Contents: Chapter 1: Introduction: Context and Framework.

Chapter 2: Sudan. Practical Action, Kassala and Khartoum.

Chapter 3: Angola. CARE, Luanda.

Chapter 4: Mozambique. CARE, Maputo.

Chapter 5: Bangladesh. Practical Action study reviewing work of a range of NGOs in Faridpur town.

Chapter 6: Zimbabwe. Practical Action Chitungwiza and Epworth.

Chapter 7: Pakistan. Orangi Pilot Project, Karachi.

Chapter 8: India. Society for Development Studies, Alwar.

Chapter 9: South Africa. South African Homeless People's Federation, Cape Town.

Chapter 10: Kenya. Practical Action, Nakuru, Mavoko.

Chapter 11: Conclusion.
Lucy Stevens At the time of writing Dr Lucy Stevens was Programme Co-ordinator, Access to Services, Practical Action
Stuart Coupe Stuart Coupe formerly International Projects Manager of the Reducing Vulnerability Team at Practical Action, an international NGO active on agricultural biodiversity and Farmers' Rights issues, has a background in Southern African Studies, including doctorate study and published works since 1992.
Diana Mitlin Dr Diana Mitlin is Senior Research Associate, International Institute for Environment and Development and Lecturer, Institute for Development Policy and Management, University of Manchester
Vulnerability in crisis: urban household food insecurity in Epworth, Harare, Zimbabwe
Tawodzera, Godfrey
Food Security, Vol. 3 (2011), Iss. 4 P.503
https://doi.org/10.1007/s12571-011-0152-1
[Citations: 33]
CHALLENGES FOR COMMUNITY-BASED ADAPTATION: DISCOVERING THE POTENTIAL FOR TRANSFORMATION
Dodman, David
Mitlin, Diana
Journal of International Development, Vol. 25 (2013), Iss. 5 P.640
https://doi.org/10.1002/jid.1772
[Citations: 182]
Peri-Urban, but Not Urban, Residence in Bolivia Is Associated with Higher Odds of Co-Occurrence of Overweight and Anemia among Young Children, and of Households with an Overweight Woman and Stunted Child
Jones, Andrew D
Hoey, Lesli
Blesh, Jennifer
Janda, Kathryn
Llanque, Ramiro
Aguilar, Ana María
The Journal of Nutrition, Vol. 148 (2018), Iss. 4 P.632
https://doi.org/10.1093/jn/nxy017
[Citations: 13]
Integrated Approaches to Address the Social Determinants of Health for Reducing Health Inequity
Barten, Franςoise
Mitlin, Diana
Mulholland, Catherine
Hardoy, Ana
Stern, Ruth
Journal of Urban Health, Vol. 84 (2007), Iss. S1 P.164
https://doi.org/10.1007/s11524-007-9173-7
[Citations: 32]