Book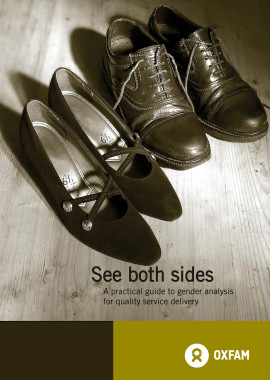 See Both Sides
A Pratical Guide to Gender Analysis for Quality Service Delivery
Published: 2004
Pages: 80

eBook: 9780855988487
Paperback: 9780855985370
Published by Oxfam GBs UK Poverty Programme Gender analysis has been used in international development for many years. It is now widely recognised that a better understanding of the particular needs of women and men makes a significant difference in the fight against poverty and disadvantage. This hands-on guide is designed to help those working in local government or the voluntary sector to plan and deliver services which will have a real impact on the everyday different lives of women and men.See Both Sides provides invaluable strategy, training exercises, and impact assessment tools, and shares examples from the experience of an organisation providing services to lone parents. They successfully used gender analysis to widen their target group, revitalise existing services and develop new ones. The process enabled them to understand better who lone parents are, recognise that welfare structures do not always reach them in their diversity, and change their work to reflect the reality of the ways in which parents share care. There is much common ground between gender and other equality areas: See Both Sides can also be used to support work on race, disability, and other equalities.
Introduction: Seeing both sides: gender analysis in service delivery

Background: Where the guide came from

Chapt er 1: Understanding assumptions and stereotypes

Exercise 1: Airing views and building consensus

Exercise 2: Who speaks who listens?

Exercise 3: What is gender?

Handout: What is gender

Exercise 4: Another look at gender

Exercise 5: What about Barbie and Ken?

Chapter 2: Understanding personal, social and structural barriers

Exercise 1: Walk in my shoes

Exercise 2: Gender and parenting

Exercise 3: Gender and power

Exercise 4: Working together

Chapter 3:Identifying the reality

Task 1: Finding out facts

Task 2: Doing a gender analysis

Task3: Using gender-disaggregated statistics

Chapter 4: Identifying the problems

Task 1: Looking at a SWOT analysis through a gender lens

Task 2: Finding out where you're starting from

Task 3: Gender and power organisations

Chapter 5: Taking action and implementing change

Action 1: Training staff and volunteers

Action 2: Examining policies

Action 3: Finding new resources and changing existing services

Action 4: Gender mainstreaming new services

Action 5: Working with service users

Action 6: Changing the culture

Chapter 6: Monitoring gender equality

Action 1: monitoring gender equality

Example: OPFSIN monitoring form

Chapter 7 Conclusions

Appendix: Glossary of terms used

Evaluation form.
Experiences of Physical and Psychological Violence Against Male Victims in Canada: A Qualitative Study
Dim, Eugene Emeka
International Journal of Offender Therapy and Comparative Criminology, Vol. 65 (2021), Iss. 9 P.1029
https://doi.org/10.1177/0306624X20911898
[Citations: 2]