Book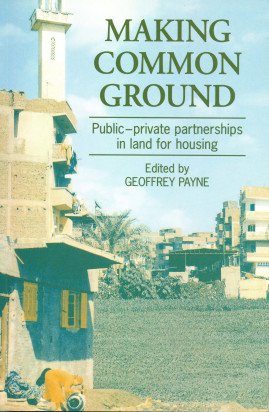 Making Common Ground
Public-private partnerships in land for housing
Published: 1999
Pages: 256

eBook: 9781780445373
Paperback: 9781853394799
This book provides a comprehensive review of experience in designing and implementing a wide range of partnerships for efficient and equitable use of urban land. Using examples from countries throughout the world and at all levels of economic development,
Acknowledgements

The contributors

Foreword

Contents

...

Vlll

ix

xii

1 Introduction 1

GEOFFREY PAYNE

Background and context 1

Reasons for current interest in partnerships 3

Types of partnership 4

Issues involved in publiclprivate partnerships 8

Criteria for assessing partnerships 12

This book 13

2 Partnership approaches in India 17

UMA ADUSUMILLI

Framework of the study 17

Land compensation to the project-affected people (PAP) 19

The participatory development approach (PDS) 25

Transferable development rights (TDR) 31

Slum redevelopment through incentives 36

Conclusions 40

3 Publiclprivate partnerships in Pakistan 46

NOMAN AHMED

Evolution and development of partnerships ' 46

Partnerships in Lahore 47

Islamabad New City Project 50

Incremental housing development - the Gharo Pilot Project 5 1

Bhitaiabad in Karachi 54

The performance of partnerships in Pakistan 56

The role of participating actors in land markets 58

The impact of the partnerships 59

Conclusions 59

Recommendations 61

4 South Africa: two case studies of partnerships in the provision of land for 64

housing

DAVID DEWAR

Background 64

The issue of land 64

The political, economic and institutional stage 66

Case 1: Delft 68

Case 2: Springfield Terrace 75

South Africa since political transition 83

A way forward 88

5 Partnerships in three Egyptian cities

AHMED SOLIMAN

Background and context
Geoffrey Payne Geoffrey Payne is a housing and urban development consultant based in London. He is author of Making Common Ground: Public-private Partnerships in Land for Housing also published by ITDG Publishing.