Book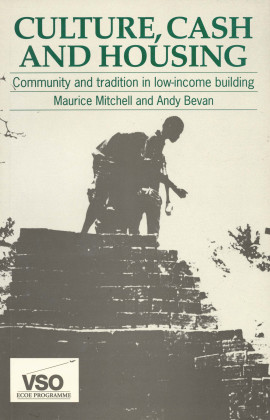 Culture, Cash and Housing
Community and tradition in low-income building
Published: 1992
Pages: 144

eBook: 9781780444741
Paperback: 9781853391538
This book examines the role of cultural tradition and the local environment in determining a community's attitude towards housing and its construction. It offers practical advice to enable planners and implementers of building projects (including development agencies) to assess effectively the community's needs and the factors which shape their own requirements for change. While there is a sizeable technical literature available on low-cost building, this book focuses on community involvement. It examines the issue of housing as a basic human need and puts the subject into a social and cultural context — whether this applies to traditional rural housing, or to the problems of an urban population.
The book draws attention to the cultural context of housing which will shape a community's perception of its needs and its attitude to change. A range of case studies of VSO volunteers who have worked on community-based low-cost building programmes in a variety of countries and settings helps illustrate the issues, concerns and most importantly, the processes which can determine the success or failure of a building project. Culture, Cash and Housing deals with a large subject and gives an overview of the many issues and concerns which need to be taken into account when working on the problems of the built-up environment in less developed countries, although many of its lessons are equally relevant to the developed world.
Essential reading for development agencies, project planners and implementers and fieldworkers, as well as academics and students in developed and developing countries.
List of Illustrations vii

Preface ix

Introduction xi

PARTI Theory

1 Why we Build 3

2 Choice of Building Design 12

Traditional Building: Vernacular Architecture 12

Change 33

The Role of Government in Shelter Provision 54

PART II Practice

3 Guidelines for Development Workers and Agencies 70

4 Experience in the Field 77

Low-Income Building in Kenya 77

Low-Income Building in the Himalayas (a) Bhutan 93

(b) Nepal 95

Low-Income Building in West Africa (a) The Gambia 99

(b) Ghana 101

Low-Income Building in Southern Africa (a) Zambia 103

(b) Zimbabwe 106

Low-Income Building in Caribbean and Belize (a) St. Vincent 108

(b) Belize 109

Low-Income Building in the Pacific (a) Fiji 111

(b) Vanuatu 113

5 A Checklist for Community-Based Builders 116

Appendix: Designing, Building and Testing Prototypes 121

Postscript: Lessons for us All? 124