Book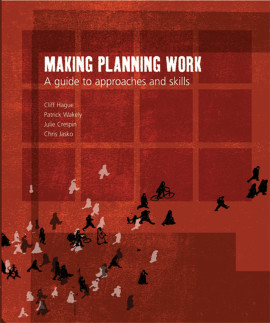 The scale, rate, and even the nature of urban development has changed dramatically in recent times. The manifestations – rapid urbanization and the urbanization of poverty, increased social diversity, industrial restructuring, more environmentally-friendly suburbs – differ globally, but South and North share the opportunities and problems of one planet. The search for sustainable solutions for settlements crosses international boundaries. Professionals and NGOs in different places and cultures are inventing new forms of urban governance and planning. How do they do it? What practical skills are being used? Making Planning Work shows why new urban skills are needed so urgently, and what can be done to grow skills and enhance capacities. The authors demonstrate how successful development and governance of human settlements depends upon collaboration and establishing effective partnerships, and how much can be achieved by working together, sharing skills, being creative, and learning on the job. The book is essential reading for planners, architects, engineers, housing providers, lawyers, politicians, environmentalists, community activists, NGOs, and community organizers - all those engaged in the processes of planning and managing towns, cities, and settlements from the very local to national and international levels.
Foreword

Preface

List of Abbreviations and Acronyms

Acknowledgements

Section 1 Making the Case

Why an urbanizing world needs new approaches to settlement planning

Pointers to sustainable settlements

Section 2 Practices, Processes, and Skills

Analytical and cognitive skills

Communication, negotiation, and inclusion

Being strategic

Management

Monitoring and Learning

Section 3 The Way Ahead

New places, new planning, new skills?

Glossary
Cliff Hague
Cliff Hague is a Past President of the Royal Town Planning Institute and President of the Commonwealth Association of Planners. He has been Professor of Planning and Spatial Development at Heriot-Watt University, Edinburgh and has extensive research and advisory experience throughout Europe.|Patrick Wakely is Emeritus Professor of Urban Development in London University and was formerly Director of the Development Planning Unit, University College London (1989-2003). An architect by training, he has research, consultancy, and teaching experience in housing and urban development in over 20 developing countries.
Patrick Wakely
Patrick Wakely is Professor of Urban Development and Director of the Development Planning Unit at University College London. An architect by training, he has 40 years experience in over 20 countries.
Julie Crespin
Julie Crespin holds Master's degrees in Political Science and Urban Development Planning. She has worked in urban development in London, China, and Africa|Chris Jasko is a development consultant. He has an MSc in Urban Development Planning from the DPU, UCL, and work experience in Europe, Asia, Afrian, and North America.
Chris Jasko
Chris Jasko is a development consultant. He has an MSc in Urban Development Planning from the DPU, UCL, and work experience in Europe, Asia, Afrian, and North America.
Planning for social inclusion in a multicultural urban South East Queensland
Storey, Donovan
Muhidin, Salut
Westoby, Peter
Australian Planner, Vol. 47 (2010), Iss. 3 P.142
https://doi.org/10.1080/07293682.2010.508202
[Citations: 2]
Regulations and housing informality in African cities: appropriating regulatory frameworks to factors that influence resilience
Chitengi, Howard S.
Housing and Society, Vol. 45 (2018), Iss. 1 P.14
https://doi.org/10.1080/08882746.2018.1453721
[Citations: 3]
Regional and Local Economic Development
Skills for Regional and Local Economic Development
Hague, Cliff
Hague, Euan
Breitbach, Carrie
2011
https://doi.org/10.1007/978-0-230-34518-8_13
[Citations: 0]
Institutional Impediments to Planning Professionalism in Victoria, Australia
March, Alan
International Planning Studies, Vol. 12 (2007), Iss. 4 P.367
https://doi.org/10.1080/13563470701745512
[Citations: 10]
Regieren
Leading place-based innovation — exploring a new role for local government
Hambleton, Robin
2012
https://doi.org/10.1007/978-3-531-19793-7_26
[Citations: 0]
Cross-cultural Communication: ACritical Competence for Planners
Reeves, Dory
Planning Practice and Research, Vol. 26 (2011), Iss. 5 P.597
https://doi.org/10.1080/02697459.2011.627006
[Citations: 4]
A partnership-based model for embedding employability in urban planning education
Blair, Neale
Manda, Mtafu
Urban, Planning and Transport Research, Vol. 4 (2016), Iss. 1 P.46
https://doi.org/10.1080/21650020.2016.1145070
[Citations: 3]
Governing Urban Africa
Stakeholder Contribution to Municipal Planning in Mozambique: An Obvious Response?—The Case of Inhambane
Schetter, Oliver
2016
https://doi.org/10.1057/978-1-349-95109-3_13
[Citations: 0]
The effectiveness of women's safety audits
Whitzman, Carolyn
Shaw, Margaret
Andrew, Caroline
Travers, Kathryn
Security Journal, Vol. 22 (2009), Iss. 3 P.205
https://doi.org/10.1057/sj.2009.1
[Citations: 17]
Tourism and Sustainability
References
2008
https://doi.org/10.4324/9780203891056.bmatt1
[Citations: 0]
Re‐inventing planning:Challenge and skills
Hague, Cliff
Australian Planner, Vol. 44 (2007), Iss. 1 P.24
https://doi.org/10.1080/07293682.2007.9982541
[Citations: 3]