Book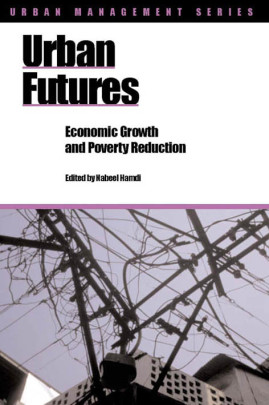 Urban Futures
Economic growth and poverty reduction
Series: Urban Management Series
Published: 2005
Pages: 248

eBook: 9781780446325
Paperback: 9781853395994
Poverty and economic growth are intrinsically related but are not always synonymous. Human wellbeing is as important to economic growth as growth is to wellbeing. Poverty is multi-dimensional, encompassing both income and non-income related factors. Mobility, aspiration, dignity, respect, knowledge, information and savvy feature importantly in our understanding of the dynamics of poverty. This book brings together a collection of essays from around the world on urban development and poverty. The book reviews current international research in respect to some of the major themes that contribute to improving the equity and efficiency of urban systems. Importantly, it explores and sets out methodologies for understanding qualitatively the dynamics of poverty and urban development. Organized into three parts, the book adopts as its principal theme poverty and the eradication of extreme poverty. Part 1 The Dynamics of Poverty and Urban Poverty Research offers a framework for understanding poverty and a methodology for research. Part 2 The Dynamics of Urban Systems includes a selection of country specific essays each focused on an aspect of urban development and its relation to poverty. Part 3 Urban Futures reviews the principal themes emerging from the chapters and offers a basis for future work.
Introduction – Nabeel Hamdi

Part 1: The Dynamics of Poverty and Urban Poverty Research

1. Understanding Urban and the Management of Change – David Satterthwaite

2. Understanding Poverty: Urban Longitudinal Research Methodology – Caroline Moser

3. Young Lives: Panel Studies and Child Poverty – Trudy Harpham, Ian Wilson, Sharon Huttly

4. Poverty and Urban Violence – Leo Thomas

Part 2: The Dynamics of Urban Systems

5. A Question of Voice: Informality and Pro-Poor Policy in Johannesburg, South Africa – Steven Friedman, Kenny Hlela and Paul Thulare

6. Begging, Requesting, Demanding, Negotiating: Moving Toward Urban Poor Partnerships in Governance – Mary Racelis

7. Migratory Flows, Poverty and Social Inclusion in Latin America – Mona Serageldin, Yves Cabannes, Elda Solloso, Luis Valenzuela

8. Room for Manoeuvre: Tenure and the Urban Poor in India – Sunil Kumar

9. Urban Housing and Livelihoods: Comparative Case Examples from Kenya and India – Michael Majale

10. Housing Policy and Economic Reform: A Comparative Case of Argentina and Mexico – Cecilia Zanetta

11. Land for Housing the Poor in African Cities: Are Neo-Customary Processes an Effective Alternative to Formal Systems? Alain Durand-Lasserver

12. Street Trade in Kenya: The Contribution of Research in Policy Dialogue and Response – Winnie V. Mitullah

Epilogue: The Answers We Need Now to Prepare for our Urban Futures – Shlomo Angel

About the Authors

References

Index
Nabeel Hamdi
NABEEL HAMDI, architect and teacher. Specialist in housing, shelter and settlement, slum upgrading and in participatory planning and design. Director of the Centre for Development and Emergency Planning (CENDEP) at Oxford Brookes University. Research Affiliate, MIT Cambridge, USA.