Book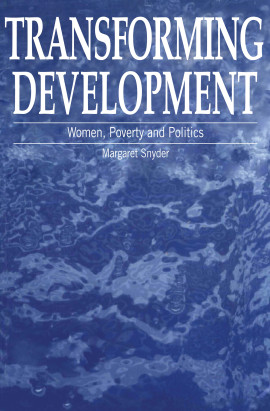 Transforming Development
Women, poverty and politics
Published: 1995
Pages: 336

eBook: 9781780446301
Paperback: 9781853393020
Transforming Development is uniquely appropriate reading at a time when civil society and the private sector are popular concepts and foreign aid is under fire. This books shows that given the chance, women are instrumental in expanding and democratizing national economies: they create wealth and family well-being. Through a history of UNIFEM, the United Nations Development Fund for Women, the author shows how the large-scale investments of governments, the World Bank, the United Nations and other organizations can become both more effectively and gender-sensitive.
The book includes both a history of UNIFEM with its struggle to survive political and bureaucratic power games, and an examination of some of the activities which UNIFEM has assisted, from village-level projects to national and regional policy interventions.
Acknowledgements vii
Acronyms viii
Introduction xi
PART ONE: Global Poverty and the Politics of Development
1. Toward a New Development Paradigm 3
Project analysis 5
Empowerment 6
Sustainable institutions 7
Innovative and catalytic effects 7
2. Women Create a New Scenario 9
Origins of women and development 9
A pioneering centre in the United Nations 18
Initial concepts and an international model 22
Global interdependence: a shifting agenda 23
3. A Unique Fund for Women 25
Policy development and the search for structure 29
A pattern of decentralization 29
Empowering the system: regional and headquarters staffing and
management 30
A distinctive role for the fund: as catalyst 35
4. Reaching the Poorest: A Continuing Challenge 41
Procedures of the project cycle 41
The UNDP partnership 47
New partners in attacking poverty: non-governmental
organizations 50
Evolving strategies for operational activities 53
5. Women and World Politics 58
Guilt by association: the Copenhagen Conference 59
The battle of Vienna 62
A new mandate: hard-won autonomy 68
6. Core Resources and Outreach to Partners 74
Government pledges 75
National Committees and an NGO Advisory Committee 76
Earmarked contributions 78
UNIFEM: from an idea to a durable institution 80
PART TWO: UNIFEM at Work in the World: Case Studies
7. Economic Empowerment 85
Innovation in Swaziland: the first UN credit fund 88
From micro-enterprise to setting policy in the Philippines 98
Factory-based production in Laos, China, and Mauritius 115
More than economics: UNIFEM in India 124
8. Social Justice 141
Towards a new development paradigm: WAND in the
Caribbean 143
Transferring technology: UNIFEM in Bolivia 151
Development amidst sudden wealth and
civil wars: UNIFEM in Western Asia 168
A first for women in Oman 170
Empowerment through traditional approaches in Syria 174
Yemeni women determined to get technology and training 179
Kenyan women put down their heavy load 183
Mexican women stop waiting for clean water 187
9. Political Participation 191
National development planning 192
Institution building 194
Information for participation: Isis in Chile 199
Women mobilize in Zambia 199
Empowering the poor: SEWA 200
A Kenyan woman stands firm 205
Grassroots women's organizations in Peru 210
10. The Africa Investment Plan 224
Food policy and food-cycle technologies 224
The power brokers enter 230
Food policy 231
Energy conservation: fuel-saving stoves and fish smokers 232
Management support: the case of ESAMI 238
Credit support systems 241
'Mainstreaming': linking women with major development
resources 241
11. Valuable Lessons for an Uncertain Future 246
Empowerment 246
Sustainable institutions 253
UNIFEM as innovator and catalyst for change 257
From risk to secure livelihoods 259
Annexes 266
Notes 283
Index 309

Margaret Snyder
Margaret Snyder lived and worked in Kenya, Tanzania, Ethiopia and Uganda for a total of 15 years. She is the founding director of the United Nations Development Fund for Women (UNIFEM). She was also a co-founder of the African Centre for Women at the UN Economic Commission for Africa (ECA) and was a member of the committee to organise Women's World Banking (WWB).