Book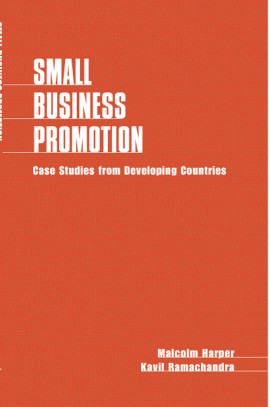 Small Business Promotion
Case studies from developing countries
Published: 1984
Pages: 128

eBook: 9781780440958
Paperback: 9780946688456
A collection of 28 case-studies from 17 countries, this book describes failures as well as successes, and provides stimulating material for students, teachers, trainers and business people themselves.
Malcolm Harper
Malcolm Harper taught at Cranfield School of Management until 1995, and since then has worked mainly in India. He has published on enterprise development and microfinance. He was Chairman of Basix Finance from 1996 until 2006, and is Chairman of M-CRIL, the microfinance credit rating agency.
RURAL INDUSTRIES AND THE COMMUNAL LANDS ECONOMY IN ZIMBABWE
HELMSING, A. H. J.
Tijdschrift voor Economische en Sociale Geografie, Vol. 78 (1987), Iss. 2 P.139
https://doi.org/10.1111/j.1467-9663.1987.tb00573.x
[Citations: 0]
Performance Factors of Peace Corps Handcraft Enterprises as Indicators of Income Generation and Sustainability
Durham, Deborah E.
Littrell, Mary A.
Clothing and Textiles Research Journal, Vol. 18 (2000), Iss. 4 P.260
https://doi.org/10.1177/0887302X0001800405
[Citations: 7]