Book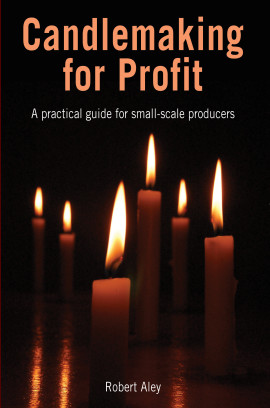 Candlemaking for Profit
A practical guide for small-scale producers
Published: 2011
Pages: 112

eBook: 9781780440132
Paperback: 9781853397219
Candlemaking is a traditional craft which can be converted into a modern small business with viable markets in most countries around the world. This book includes instructions on how to determine the feasibility of a candlemaking business, and advises on essential business planning. It gives detailed and specific guidance in the critical areas of pricing, marketing and selling. Candlemaking for Profit covers the various materials and methods used in candlemaking. Finding workshop space is also covered, with information about costs of premises, workshop layout, stock control and safety. The book explains how to keep ahead through design and innovation and includes advice on how to generate creative ideas, respond to market trends and safeguard intellectual property. This is a simple and clear practical guide for those who are looking for a business start-up or who want to convert their candlemaking hobby into a profitable small business, whether living in an economically rich or developing country.
Prelims (Contents, Figures, Tables, Photos, About the author)

1. The history of candlemaking

contributions from Mindy Chillery

2. Feasibility study

contributions from Mindy Chillery

3. Business planning

contributions from Mindy Chillery

4. Marketing

contributions from Mindy Chillery

5. Materials, equipment and techniques

6. Premises, workspace and stock control

7. Innovation, design and intellectual property

8. Case studies

Back Matter (Further information sources)
Robert Aley
Robert Aley has run his own successful candlemaking business since 2003. 'The Wax Studio' is a multi-award winning small business which has built a strong reputation for its innovative candle designs and handmade product quality. Robert Aley has a master's degree in design and extensive experience in advising small enterprises in developing countries.