Book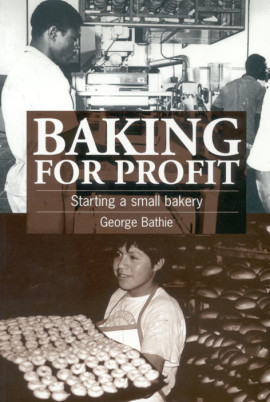 Baking for Profit
Starting a small bakery
Published: 2000
Pages: 136

eBook: 9781780444536
Paperback: 9781853394072
Most communities have the capacity to support a well-run bakery operation. With good planning and access to raw materials and markets, setting up a bakery can represent an excellent enterprise opportunity. Baking for Profit provides the information that a small entrepreneur needs to address when setting up a bakery. The emphasis is on clear advice and instruction, beginning with effective planning. The opening chapter covers first steps, including setting about the vitally important feasibility study. Subsequent chapters cover other aspects of setting up the business, such as choice of site and layout of buildings, hygiene and safety, raw material selection and choosing the right type and scale of machinery and equipment. The book gives appropriate recipes for initial production, as well as guidance on suitable production systems. There are also troubleshooting charts giving advice on overcoming production problems, as well as useful advice on stock management. This practical manual is invaluable reading for those who are starting out in the bakery business, those whose job it is to advise others doing so, or those who want to scale up existing operations to increase their profits.
Prelims (Contents, Preface, Introduction)

1. First steps - feasibility and business planning

2. Setting up the bakery; Equipment

3. Raw material selection and storage

4. Making bread

5. Shelf-life of bakery products; Hygiene and safety

6. Production of different breads

7. Other bakery products

Back matter (Appendices 1 - 4, Bibliography)
George Bathie
George Bathie, deceased, was a consultant who provided professional services to bakeries in Hong Kong, Australia and throughout Africa for over forty years. He was a Fellow of the Institute of British Bakers.