Book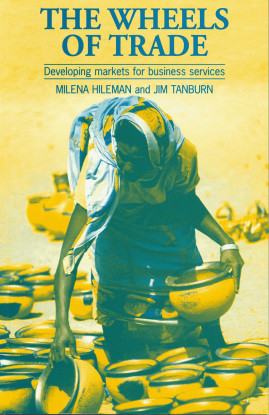 Wheels of Trade
Developing markets for business services
Published: 2000
Pages: 104

eBook: 9781780441030
Paperback: 9781853395178
High levels of subsidy have tended to create dependency and interventions, which run in parallel with the day-to-day workings of the small enterprise sector. This book presents the findings from the ILO's FIT programme which has worked to define and explore a different approach to the provision of Business Development Services (BDS), mainly in sub-Saharan Africa. It has shown that some services can be provided sustainably by for-profit providers, and it has defined various ways in which those providers can be supported, so that they can provide more services, to a higher standard than before. This book chronicles those experiences, drawing also on relevant insights gained in other Samll Enterprise Development (SED) projects worldwide. This book sets out a new and practical approach to BDS which calls for constant reassessment of the assumptions underlying small business development and for substantial adaptation of current working methods, in order to improve results. The solutions contained in this book come at a time when challenges posed by unemployment and under-employment are greater than ever before. It will provide a great source of information and inspiration to donor agencies and professionals working in the SED field.
Jim Tanburn At the time of writing, Jim Tanburn was employed by the ILO to work on the FIT Programme. He is currently on the staff of the ILO, working on inter-agency knowledge exchange (www.ilo.org/dyn/bds) and innovative projects in BDS worldwide.
Milena Hileman Milena Hileman worked ast social anthropologist at African Strategic Research Institute (ASRI). Currently she is Independent Writing and Editing Professional, Palo Alto, California
Labour and Labour-Related Laws in Micro and Small Enterprises: Innovative Regulatory Approaches
Fenwick, Colin
Howe, John B
Marshall, Shelley D.
Landau, Ingrid
(2008)
https://doi.org/10.2139/ssrn.1123305
[Citations: 5]
Importance of Humane Design for Sustainable Landscape
Toofan, S.
International Journal of Engineering and Technology, Vol. 6 (2014), Iss. 6 P.508
https://doi.org/10.7763/IJET.2014.V6.750
[Citations: 1]