Book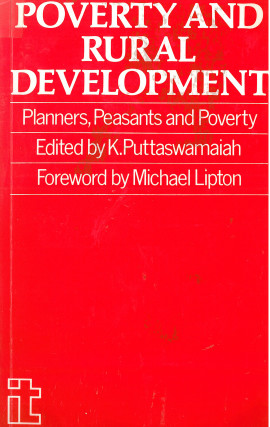 In the developing world, people in rural areas are even poorer than city dwellers. Reducing the gap between city and country, even slightly, could greatly improve the quality of peoples lives. This collection of essays presents evidence from a variety of countries and backgrounds - India, Sri Lanka, Bangladesh, Indonesia, Fiji, Brazil, Nigeria and Kenya are among the countries studied. It poses the question of whether peasant poverty is mainly a result of decisions made in the interests of cities and urban groups. The authors discuss the roles of both markets and governments in attempts to reduce income disparities.
K. Puttaswamaiah Dr. Puttaswamaiah was the technical Chief of the Planning Department (Senior Director), Government of Karnataka and was incharge of Planning, Project Formulation, Appraisal, Evaluation and Rural Development. At present, he is the Chief Editor, Indian Journal of Applied Economics, Bangalore, and a Member of the Karnataka State Gazetteers' Advisory Committee.
Michael Lipton Michael Lipton is an economist specialising in agricultural research, land reform, poverty and inequality, nutrition, and economic demography in developing countries, including Bangladesh, Botswana, India, Sierra Leone, Sri Lanka and South Africa.
Changing livelihoods among the second and third generations of settlers in System H of the Accelerated Mahaweli Development Project (AMDP) in Sri Lanka
Azmi, Fazeeha
Norsk Geografisk Tidsskrift - Norwegian Journal of Geography, Vol. 61 (2007), Iss. 1 P.1
https://doi.org/10.1080/00291950601173903
[Citations: 6]