Book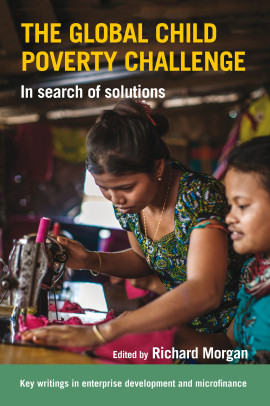 The Global Child Poverty Challenge
In search of solutions
Published: 2016
Pages: 192

eBook: 9781780449661
Paperback: 9781853399671
Hardback: 9781853399664
Children are the most vulnerable people in the world – but rarely has the impact of poverty on children been addressed as an urgent issue in its own right. The harm that deprivation does to girls and boys as individuals, and the lasting cost of poverty, have received too limited attention. Policies and programmes have not made best use of the growing evidence of 'what works' for the poorest children to support the efforts of families and children themselves to forge more prosperous futures.

In a major effort to counter the invisibility of children in thinking on poverty reduction, The Global Child Poverty Challenge takes stock of a wide range of evidence on how children can be put at the centre of policies and programmes, in ways that recognize their capacities and centrality to future prosperity. The contributors look at experience with key interventions for investing in children – including social protection, basic services, skills development for future livelihoods, responsible microfinance and opportunities for decent work. 'Child sensitive' approaches based on child rights principles are seen as central to making these interventions work for the poorest children.

Bringing together findings from a variety of settings, this book calls for the recognition of children as holders of rights and agents in their own development. It points to the experience of children living in poverty – and draws attention to their many roles: as learners, seekers of opportunity, as migrants, users of financial services and entrants to the world of work.

This book is essential reading for all those working on social protection and poverty reduction programmes in developing countries, including researchers, policy makers, and those working for development agencies.
1 Addressing child poverty: an overview

Richard Morgan

2 Building strong foundations for later livelihoods by addressing child poverty: evidence from Young Lives

Paul Dornan and Kirrily Pells

3 Evaluations of outcomes for children and youth from NGO-supported microeconomic interventions: a research synthesis

C.M. Ellis and Josh Chaffin

4 Lessons from practice in child-sensitive social protection

Nicola Hypher and Katherine Richards

5 Are graduation or rights-based programmes better for getting children out of poverty?

Stephen Devereux

6 Does wealth increase affect school enrolment in ultra-poor households: evidence from an experiment in Bangladesh Munshi Sulaiman

7 Responsible finance and child labour: quo vadis microfinance?

Patricia Richter and Sophie de Coninck

8 Recognizing and supporting working children through microfinance programming

Richard Carothers

9 Independent child migrants in developing countries: a literature review

Shahin Yaqub

10 Fostering economic opportunities for youth in Africa: a comprehensive approach

Karen Moore

11 Do youth need savings? The experience of YouthSave in Colombia, Ghana, Kenya and Nepal

Rani Deshpande

12 Conclusions: towards effective action in addressing child poverty through public policy

Richard Morgan
Richard Morgan Richard Morgan has worked in international development for almost forty years, focusing on policy and practical issues of poverty reduction in the developing world. Until recently the head of policy for UNICEF, he now leads a global initiative to combat child poverty with Save the Children.