Book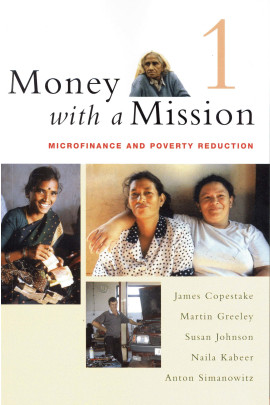 This book presents the findings of an action research programme into how far poverty-oriented microfinance institutions (MFIs) in Africa, Asia, and Latin America are contributing to global poverty reduction, and how they can do so more effectively.Martin Greeley reviews evidence on their success in reaching poorer clients and improving the average income and wealth of their clients. Naila Kabeer reviews evidence on performance against a wider array of indicators, including women's empowerment, citizenship rights, and social inclusion. Susan Johnson is more cautious, suggesting that the contribution of MFIs to the overall growth of financial services in selected parts of Africa and India remains small. James Copestake reviews evidence on the organizational factors that influence achievement of MFIs' social as well as financial goals, as well as progress in routinely monitoring and managing social performance.This covers how MFIs can manage their 'double bottom lines' more effectively, as well as what public and private investors in microfinance can do to help them. The bigger challenge, linking up with the wider movement for corporate social responsibility, is to find ways to do so across the entire financial sector.
Prelims (Contents, Acknowledgements, List of figures, List of tables, List of abbreviations and acronyms, List of authors)
1. Introduction
James Copestake, Anton Simanowitz, Katherine Knotts
2. Sustainable poverty outreach
Martin Greeley
3. Direct material impacts
Martin Greeley
4. Direct social impacts for the Millennium Development Goals
Naila Kabeer
5. Wider impacts: social exclusion and citizenship
Naila Kabeer
6. Impact in local financial markets
Susan Johnson
7. Organizational determinants of social performance
James Copestake
8. Institutionalizing social performance assessment
James Copestake
9. Conclusions
James Copestake, Anton Simanowitz
Back matter (Notes, References, Index, More Books on Microfinance from ITDG Publishing)

James Copestake
James Copestake lectures in economics and international development at the University of Bath, UK. He has previously published research on the impact of microfinance in India, Southern Africa and Latin America.
Martin Greeley
Martin Greeley is a fellow at the Institute of Development Studies, University of Sussex, UK. His research and publication are concentrated particularly on poverty assessment, rural development and development finance in South Asia and East Africa.
Susan Johnson
Susan Johnson lectures in international development at the University of Bath, and was previously with ActionAid. She is co-author of a widely cited book on microfinance and poverty, and sits on the editorial committee of the Small Enterprise Development Journal. Her most recent research and publications are on gender, the evolution of financial markets and microfinance in East Africa.
Naila Kabeer
Naila Kabeer is a professorial fellow at the Institute of Development Studies, and has published widely on poverty, economics, gender, social capital and social policy.
Anton Simanowitz
Anton Simanowitz has been influential since the late 1990s as a practitioner and thought leader in the field of microfinance and social enterprise. He works globally with practitioners, investors, technical assistance providers and policy makers to improve the effectiveness of microfinance and social enterprises in delivering positive social outcomes.