Book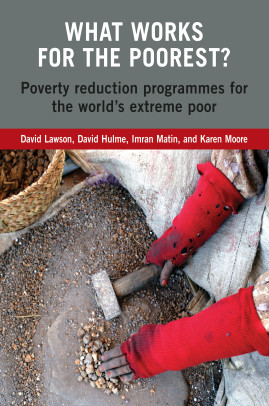 Poverty reduction has become the central goal of development policies over the last decade but there is a growing realization that the poorest people rarely benefit from poverty reduction programmes. Microfinance programmes can help poor people improve their lives but generally such programmes do not reach the extremely poor and the chronic poor: casual labourers in remote rural areas, ethnic and indigenous minorities, older people, widows, migrants, bonded labourers and others.To counter this, governments, NGOs and donors have started to mount programmes explicitly targeting the poorest. This book is the first attempt to examine such initiatives and identify 'what works for the poorest'. It asks the questions: what are the characteristics of extreme poverty? how can we target the very poor? how can we ensure that women are not excluded? Through a set of carefully selected and well-integrated papers this book analyses innovative ultra-poor programmes from around the world and explores the lessons that emerge from this new and important body of knowledge.What Works for the Poorest? should be read by staff of donor agencies and NGOs, students of development studies and interested readers who are concerned about chronic poverty.
Prelims (Preface, Foreword - Ravi Kanbu, Contributors)

1. What works for the poorest?

David Hulme and David Lawson

Part A: Creating knowledge about the poorest

2. Pro-poorest growth: A National Household Survey Approach

Umar Serajuddin, Hassan Zaman and Ambar Narayan

3. A 'Q-squared' approach to enhancing our understanding of the chronically poor

David Lawson

4. Alternative accounts of chronic disadvantage: Income deficits versus food security

Naila Kabeer

Part B: Targeting the poorest

5. Identifying and targeting the extreme poor: A methodology for rural Bangladesh

Binayak Sen and Sharifa Begum

6. Testing combined targeting systems for cash transfer programs: the case of the CT-OVC programme in Kenya

Carlos Alviar, Francisco Ayala and Sudhanshu Handa

7. Institutional issues in scaling up programmes for the health needs of the very poor

Hilary Standing and Elizabeth Kirk

Part C: Policies and programmes for the poorest: case studies

8. Eradicating extreme poverty: The Chile Solidario programme

Armando Barrientos

9. Assisting the poorest in Bangladesh: Learning from BRAC's 'Targeting the Ultra Poor' Programme

David Hulme and Karen Moore

10. Unconditional cash transfers to the very poor in central Vietnam: Is it enough to 'just give them the cash'?

Peter Chaudhry

11. Exclusion to empowerment: Women of the Siddi community in Gujarat, India

Somnath Bandyopadhyay, Apoorva Oza and David Nygaard

12. The NREGA and rural women in poverty: Entitlements, issues and emerging concerns

Rina Bhattacharya, Meera Pillai and Ratna Sudarshan

13. Strategies for promoting decent contract labour: Experiences from South African and UK agriculture

Stephanie Barrientos

14. The role of health equity funds in meeting health-related needs of the poorest in urban areas of Cambodia.

Chean Rithy Men and Maurits Van Pelt

Part D: Making it work: finding the money and spreading the knowledge

15. Linking microfinance and safety net programmes: New pathways for the poorest

Syed Hashemi and Malika Anand

16. Revenue mobilization for poverty reduction: What we know, what we need to know

Tony Addison

17. Making poverty reduction programmes work for the poorest

David Hulme and David Lawson

Back Matter (Index)
David Lawson David Lawson is a Research Fellow, Global Poverty Research Group and Brooks World Poverty Institute; he is an author of journal articles on poverty, health and gender. He is also the Convenor of postgraduate programmes on Development Economics at the University of Manchester. He has advised the World Bank, DfID and many governments in relation to poverty and poverty dynamics.
David Hulme Professor Hulme is Founder-Director of the Global Poverty Research Group and Brooks World Poverty Institute; author of numerous well-received books on poverty, rural development and development studies; Director of post graduate programmes on Development Studies at the University of Manchester; and adviser to the UN, World Bank, DfID and many governments and leading NGOs.
Imran Matin Imran Matin has worked for the World Bank and specializes in designing and managing ultra-poor programmes in Bangladesh, Sudan, Tanzania and Uganda.|Karen Moore is Policy Analyst, Education for All Global Monitoring Report, UNESCO
Karen Moore Karen Moore is Policy Analyst, Education for All Global Monitoring Report, UNESCO
Small-scale silage-making technology for the extreme poor on floodplains
KHAN, Md MAHFUZUR RAHMAN
MIAH, SAZZAD HOSSAIN
IRFANULLAH, HASEEB Md
International Journal of Environmental Studies, Vol. 70 (2013), Iss. 2 P.192
https://doi.org/10.1080/00207233.2013.773717
[Citations: 0]
What Works for Africa's Poorest
CHAPTER 1 What works for Africa's poorest?
Hulme, David
Lawson, David
2017
https://doi.org/10.3362/9781780448435.001
[Citations: 1]
Before Microfinance: The Social Value of Microsavings in Vincentian Poverty Reduction
Tavanti, Marco
Journal of Business Ethics, Vol. 112 (2013), Iss. 4 P.697
https://doi.org/10.1007/s10551-012-1566-1
[Citations: 21]