Book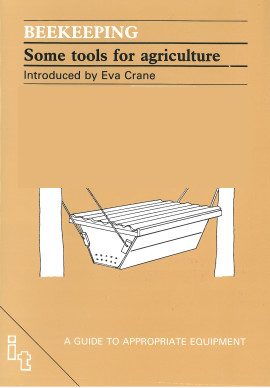 This guide is a quality directory of agricultural equipment and machinery which is suitable for small scale beekeeping and honey processing. A general introduction to beekeeping is followed by an illustrated catalogue of suitable equipment and the addresses of suppliers and manufacturers.
How to use this Guide

General Introduction

Beekeeping
Ethel Crane
Ethel Crane's writing culminated in two encyclopaedic tomes, Bees and Beekeeping: science, practice and world resources (1990) and The World History of Beekeeping and Honey Hunting (1999). These distilled a lifetime's knowledge and experience and are regarded as seminal textbooks throughout the beekeeping world. She died at the age of 95 in Slough.
The Encyclopedia of Ancient History
Bees
Ebert, Adam W.
2012
https://doi.org/10.1002/9781444338386.wbeah06039
[Citations: 0]
The Encyclopedia of Ancient History
Wax
Ebert, Adam W.
2012
https://doi.org/10.1002/9781444338386.wbeah06352
[Citations: 0]
Galen:On the Properties of Foodstuffs
Powell, Owen
Wilkins, John
2003
https://doi.org/10.1017/CBO9780511482892
[Citations: 8]
Widespread exploitation of the honeybee by early Neolithic farmers
Roffet-Salque, Mélanie
Regert, Martine
Evershed, Richard P.
Outram, Alan K.
Cramp, Lucy J. E.
Decavallas, Orestes
Dunne, Julie
Gerbault, Pascale
Mileto, Simona
Mirabaud, Sigrid
Pääkkönen, Mirva
Smyth, Jessica
Šoberl, Lucija
Whelton, Helen L.
Alday-Ruiz, Alfonso
Asplund, Henrik
Bartkowiak, Marta
Bayer-Niemeier, Eva
Belhouchet, Lotfi
Bernardini, Federico
Budja, Mihael
Cooney, Gabriel
Cubas, Miriam
Danaher, Ed M.
Diniz, Mariana
Domboróczki, László
Fabbri, Cristina
González-Urquijo, Jesus E.
Guilaine, Jean
Hachi, Slimane
Hartwell, Barrie N.
Hofmann, Daniela
Hohle, Isabel
Ibáñez, Juan J.
Karul, Necmi
Kherbouche, Farid
Kiely, Jacinta
Kotsakis, Kostas
Lueth, Friedrich
Mallory, James P.
Manen, Claire
Marciniak, Arkadiusz
Maurice-Chabard, Brigitte
Mc Gonigle, Martin A.
Mulazzani, Simone
Özdoğan, Mehmet
Perić, Olga S.
Perić, Slaviša R.
Petrasch, Jörg
Pétrequin, Anne-Marie
Pétrequin, Pierre
Poensgen, Ulrike
Joshua Pollard, C.
Poplin, François
Radi, Giovanna
Stadler, Peter
Stäuble, Harald
Tasić, Nenad
Urem-Kotsou, Dushka
Vuković, Jasna B.
Walsh, Fintan
Whittle, Alasdair
Wolfram, Sabine
Zapata-Peña, Lydia
Zoughlami, Jamel
Nature, Vol. 527 (2015), Iss. 7577 P.226
https://doi.org/10.1038/nature15757
[Citations: 99]
Advanced Technologies, Systems, and Applications III
HaBEEtat: Integrated Cloud-Based Solution for More Efficient Honey Production and Improve Well-Being of Bee's Population
Šakanović, Semir
Kevrić, Jasmin
2019
https://doi.org/10.1007/978-3-030-02574-8_29
[Citations: 2]
Safeguarding pollinators and their values to human well-being
Potts, Simon G.
Imperatriz-Fonseca, Vera
Ngo, Hien T.
Aizen, Marcelo A.
Biesmeijer, Jacobus C.
Breeze, Thomas D.
Dicks, Lynn V.
Garibaldi, Lucas A.
Hill, Rosemary
Settele, Josef
Vanbergen, Adam J.
Nature, Vol. 540 (2016), Iss. 7632 P.220
https://doi.org/10.1038/nature20588
[Citations: 781]
Asian Beekeeping in the 21st Century
Beekeeping in Vietnam
Thai, Pham Hong
Van Toan, Tran
2018
https://doi.org/10.1007/978-981-10-8222-1_11
[Citations: 2]