Book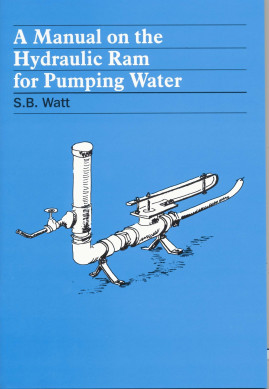 A Manual on the Hydraulic Ram for Pumping Water
Published: 1975
Pages: 42

eBook: 9781780441603
Paperback: 9780903031158
Part One contains details of how to make and maintain a small hydraulic ram on a suitable site, whilst Part Two takes a more technical look at ram performances and design considerations and also contains a useful bibliography.
9781780441603.000

1

9781780441603.001

9
Simon Watt
Simon Watt is a civil engineer with extensive experience working in the UK, Australia, Canada, India, Pakistan, Papua New Guinea and Thailand.
An analysis of the conditions during the autonomous start-up of a water ram
SOBIESKI, WOJCIECH
LIPIŃSKI, SEWERYN
GRYGO, DARIUSZ
Sādhanā, Vol. 45 (2020), Iss. 1
https://doi.org/10.1007/s12046-020-1272-0
[Citations: 1]
The use of hydraulic ram pump for increasing pump head‐technical feasibility
Asvapoositkul, Wanchai
Nimitpaitoon, T.
Rattanasuwan, S.
Manakitsirisuthi, P.
Engineering Reports, Vol. 3 (2021), Iss. 5
https://doi.org/10.1002/eng2.12314
[Citations: 0]
Structural design and parameter optimization on a waste valve for hydraulic ram pumps
Li, Jiazhen
Yang, Kailin
Guo, Xinlei
Huang, Wei
Wang, Tao
Guo, Yongxin
Fu, Hui
Proceedings of the Institution of Mechanical Engineers, Part A: Journal of Power and Energy, Vol. 235 (2021), Iss. 4 P.747
https://doi.org/10.1177/0957650920967489
[Citations: 1]
Appropriate Technology
Water and Health
Dunn, P. D.
1978
https://doi.org/10.1007/978-1-349-16064-8_5
[Citations: 0]