Book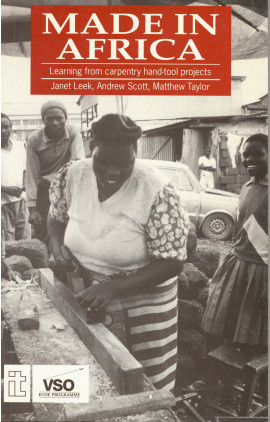 This book examines the pros and cons of the local production of carpentry hand-tools as opposed to their importation. In seeking the best strategy to adopt it also outlines the previous methods adopted by VSO and Intermediate Technology who have much experience in this area. Published in the VSO ECOE Programme series.
9781780442709.000 (page 1)
9781780442709.001 (page 9)
1: Introduction (page 9)
An Historical Perspective (page 9)
Re-introducing Toolmaking (page 10)
Barriers to Success (page 11)
A Gender Perspective (page 12)
The Text (page 12)
2: Why make Hand-Tools? (page 13)
Why Carpentry? (page 13)
Approaches to making Tools (page 15)
Summary (page 18)
3: Hand-Tools and Practising Carpenters (page 20)
Practising Carpenters (page 20)
Carpenters' Tools (page 22)
Carpenters' own Experience in making Tools (page 23)
The IT Experience (page 25)
The VSO Experience (page 26)
Conclusions (page 28)
Lessons Learned (page 30)
4: Making Tools in Educational Institutions (page 32)
Benefits (page 32)
Youth Polytechnics, Kenya (page 33)
Government Training Centres, Malawi (page 36)
NGO Training Centres, Zimbabwe (page 37)
Government Training Centres, Zimbabwe (page 40)
Acceptability (page 41)
Toolmaking: An Educational Justification (page 42)
Conclusions (page 43)
Lessons Learned (page 44)
5: Hand-Tool Production Units (page 46)
Rapogi Youth Polytechnic (page 46)
Bande Tool Makers (page 47)
WECO Tool Production Unit (page 49)
Itawoga Tools (page 51)
COMET, Zambia (page 53)
Conclusions (page 54)
Lessons Learned (page 55)
6: Conclusions and Future Work (page 58)
Skills Transfer (page 58)
Appropriateness (page 58)
Acceptability (page 58)
Sustainability (page 59)
Combined Programmes (page 59)
Which tools? (page 60)
Self-Employment (page 60)
Further Work by it and VSO (page 61)
References (page 63)
Appendix 1: The Tools (page 67)
Appendix 2: Price Comparisons of Selected Tools (page 78)

Andrew Scott
Andrew Scott was Director of international programmes and policy for the Intermediate Technology Development Group (now Practical Action) until 2011. He is now a research fellow at the Overseas Development Institute.